Estimated read time: 8-9 minutes
This archived news story is available only for your personal, non-commercial use. Information in the story may be outdated or superseded by additional information. Reading or replaying the story in its archived form does not constitute a republication of the story.
WEST VALLEY CITY — Remembering him as a dedicated public servant who always had a trademark smile on his face no matter what he was doing, a community said goodbye Friday to fallen Draper Police Sgt. Derek Johnson.
But while his physical presence is missed, his family said they know Johnson is with them. Desirae Johnson called her brother her "guardian angel" and said she felt him with her when she went running the morning he was shot and killed.
"I love you and I am so proud of you for giving your life to what you loved and believe in. I promise I will never forget you and look for signs of you wherever I go," she said. "I know you are always with us, watching over us and will protect us."
Johnson's brother, Darin Johnson, asked the audience to pause to feel his brother's presence at the Maverik Center.
"He's here with us," he said.
The funeral services were held at the Maverik Center. Johnson was killed Sunday morning while driving back to the police station to end his shift. He came across a broken-down vehicle with two people and was shot multiple times without warning while he was still in his patrol car.
"There's not a moment that will go by that I will ever forget you. I love you," Darin Johnson said, speaking directly to his brother at the funeral.
A common theme among many of the speakers, as well as those who knew Johnson who attended the funeral, was his broad and infectious smile.
"Most of you know Derek as a smiling man," his sister-in-law Amanda Fralick told the congregation after tearfully reading his obituary. "Please make sure you smile today because that's what he would want."
---
He could spot a criminal anywhere, and frankly I did not like working overtime shifts with him because we'd never go home. He'd keep catching bad guys.
–Sgt. Pat Evans
---
Though Friday was meant to celebrate the life of a man who everyone agreed served his community nonstop, there were many tears in what was overall a solemn ceremony.
Six bagpipe players led Johnson's casket into the arena, draped with an American flag. His widow, Shante Johnson, followed while carrying their 6-year-old son, Bensen Ray, who had his arms tightly wrapped around his mother's neck and his head buried in her shoulder.
Johnson was remembered as a dedicated family man as well as one of the hardest working officers in the Draper Police Department.
"He could spot a criminal anywhere, and frankly I did not like working overtime shifts with him because we'd never go home. He'd keep catching bad guys," said Draper Police Sgt. Pat Evans. "He was the best."
Evans and Johnson were each other's best men at their weddings. They grew up together, lived together for awhile and entered law enforcement careers together.
"Derek was the hardest working person I ever met, and probably ever will. And I'm very proud to say he was my best friend," he said. "Derek was the ultimate go-to guy. … We will never fill the void Derek left behind."
Despite working all those hours at the department, Johnson still found time to help his neighbors with Christmas lights and other tasks, Evans said.
"There's all these people running around downtown right now dressed like superheroes. We've got the superhero right here," he said, referring to the ComiCon convention in Salt Lake City.
Just before the tragic shooting, Evans was leaving for a vacation in Alaska. Johnson sent him a text before he left: "Dispatch is calling you, it's time to go." Johnson was in Alaska when he heard the news about the shooting and he went immediately home. Friday, he "returned" Johnson's text message.
"Derek, heaven is calling you, it's time to go. Godspeed, my buddy."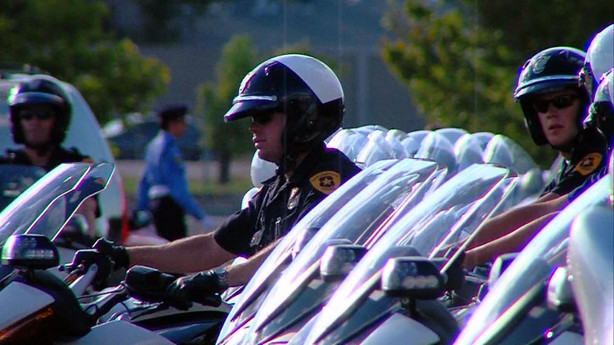 Elder Mervyn B. Arnold, of The Church of Jesus Christ of Latter-day Saints' Quorum of the Seventy, said it didn't take long for him to learn from talking to other officers about Johnson's great community service work.
"He could make a difficult situation as best as it could be," he said. "God gave him such a great sense of humor. God gave him such a great nature."
"He was a hard worker. I had to send him home a lot of times. 'Just go home. You've been here all day and all night. Go home and be with your family.' And that's the kind of guy he was. He never stopped," said Draper Assistant Police Chief Russ Adair. "That's the kind of guy he was, and we're going to miss him dearly. It's going to be tough to replace him."
His father, Randy Johnson, read a paper Johnson had written for an assignment in sixth grade. Even then, he wrote that he wanted to be an officer, "because I hate to see people rob stores or steal."
"I'm truly going to miss Derek," his father said.
Sometimes, Johnson's smile was a "mischievous smile," his friends and family joked, that couldn't always be read. Generally, it meant the practical jokester was plotting his next prank.
Desirae Johnson joked about how her brother would "practice" being a police officer when they were kids by hitting her pressure points, knocking her down and then handcuffing her to a dresser. But her brother was also the one who always stood up for her.
"Derek was my protector. I felt safe knowing he was my brother. I felt safe because he took care of me," she said. "He was proud to make the world a little bit more peaceful every time that he worked."
Three weeks ago, all of the Johnson brothers and their father were able to spend time together when they went on an annual hunting trip. Randy Johnson said they aren't very good at bow hunting. But they've made it a tradition to all set aside time to be together.
Hundreds of officers, all wearing black bands across their badges, attended Friday's services. Several thousand attended overall.
Draper Mayor Darrell Smith said Johnson reminded him of Robin Hood.
"He certainly always gave more than he ever expected to receive," he said.
Related Stories:
Smith referred to a time when he watched Johnson conduct police K-9 training and get tackled and dragged to the ground by a service dog. "Just getting that Sgt. Johnson smile … as if to say, 'Man that was fun,'" he recalled.
Gov. Gary Herbert encouraged everyone to follow the example set by Johnson and "be anxiously engaged in good causes."
Two large TV screens showed a continuous slide show of Johnson and his family as people filed into the arena.
Several tables filled with photos of Johnson and his family were on display. Johnson and his wife met in middle school, and several of the pictures dated back to their high school prom. Other mementos on display included Johnson's law enforcement awards as well as the bow and arrows he went hunting with, his baseball glove and cleats.
Hundreds of motor officers led the funeral procession from the Maverik Center to Larkin Sunset Gardens, 1950 E. 10600 South, for the interment. The procession was so long that the last car was still leaving the arena when the first motorsquad arrived at the cemetery. It took more than an hour to move everyone to the interment.
Hundreds of American flags and blue ribbons whipped in the wind along 12300 South as thousands gathered to honor a fallen police officer.
Children waved flags as their parents explained in hushed voices that they were there to pay tribute to Sgt. Derek Johnson as his funeral cortège passed. A few told stories of the officer, some cried, and many were silent as hundreds of cars, motorcycles and law enforcement officers from all over the state passed by.
"This is just a testament of what he was about," Jeannie Johnson said of the enormous outpouring of support for the slain officer. "Any mother would be proud to have a man like that."
After dedicating the grave site, officers folded the flag that had covered Johnson's casket into a triangle, placed the shells from the 21-gun salute inside the flag, and presented it to Shante Johnson while Taps played. Additional flags were then presented to Bensen and to Johnson's parents.
Four helicopters flew overhead in a missing man formation, meaning one breaks away from the group and flies off in another direction. A "last call" was then made by dispatchers for Johnson, traditionally an emotional moment at officer funerals when a dispatcher will make a call for Johnson, only to hear silence in reply, and then declare an "end of watch."
After the interment ended, Shante and Bensen Johnson approached Johnson's coffin and each placed a flower on top. Draper police officers then gathered in a group around the casket to say their final goodbyes.
After the ceremony, there were many hugs between officers and their families, and exchanges of "I love you" with family members.
"Today was such a special moment," said a grateful Draper Police Chief Bryan Roberts, reflecting on all the people who lined the streets of Draper for the procession. "Such an incredible outpouring of support. … I'm taken back by the services here."
×
Photos
Related Stories