SALT LAKE CITY — Fall is jamming season here in Utah. Local produce is at its peak in the later months of summer and into the fall. 'Putting up' vegetables and fruit has been a tradition around these parts since the pioneers rolled in to the Salt Lake Valley.
Jam making isn't an exact science, but it almost is. There a few key parts of the process that have to be done right so a batch will set, taste amazing, and keep well. If you're like me, and think of bread only as the conduit for jam and have been found hiding in the pantry with a spoon and an open jar, you probably want your jam to turn out perfectly. Here are a few tried and true tips for making the best jam ever.
Pick the best
Picking the highest quality fruit will ensure a tasty jam. With that said, don't worry if your fruit is in perfect shape. Taste is what's important, so find the sweetest produce you can but don't get too hung up on if it has bruises or is a little bit past its heyday. The best fruit for jam is just a little over-ripe, so the sugars are at their peak. I've been known to find a good fruit tree on the side of the road and start picking up pieces right off the sidewalk. As long as the fruit tastes good and isn't fermented, you're probably good to go.
As a rule of thumb the closer to the tree or bush you can find your fruit the better it will taste. There are lots of amazing fruit stands and farms in Utah that offer produce picked the same day it sells. For a more adventurous time, check out the local pick-your-own farms. For a comprehensive list of local you-pick farms, visit this page .
Prepare your fruit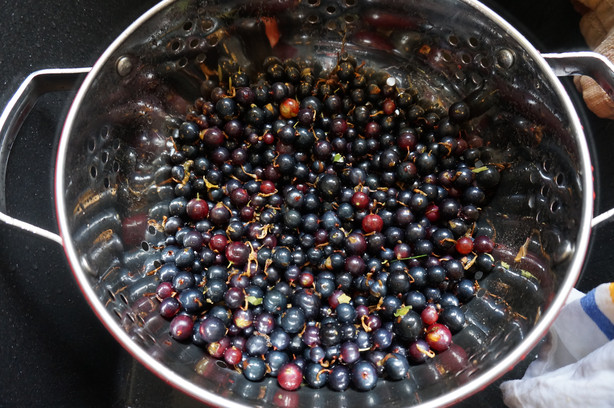 One of the most tedious parts of making jam is getting everything ready. Some fruits, like apricots and raspberries, lend themselves to very little prep-time. Peaches, cherries, plums (depending on what sort of plum jam you're making) and gooseberries all take a bit more time to get ready.
Make sure you wash your fruit thoroughly and remove all pits, stems, and peels. Sometimes it may take a few hours to get your fruit ready for just one batch of jam. I tend to couple peach jam-making with college football games and make a night of sitting in my kitchen, peeling fruit and watching the game. Enlist the help of your family to help with the prep. After all, they'll want to enjoy the finished product later on, so it's only fitting they help out with the hardest part.
Gather all needed supplies before the jam goes on the stove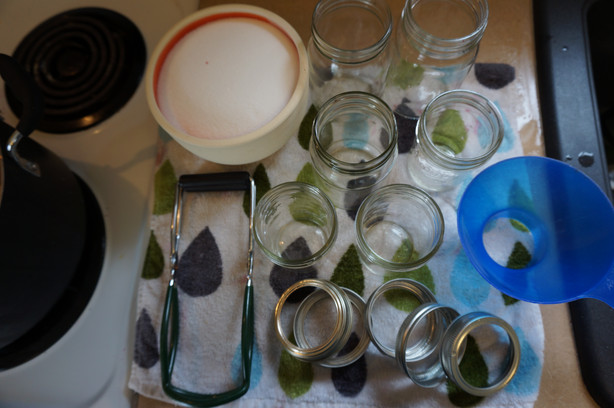 After years of trial and error, this is one step I just cannot omit. Once the jam is cooking, it's difficult to leave your post to gather what you need. I make sure to collect all supplies for the entire process before I put anything on to cook. This makes jam-cooking go much smoother. A few items I always have on my supply list while jamming; ladle, canning funnel, wet dishcloth, canning tongs, pre-measured sugar (I'll talk more about this one in a second), and my sterilized lids and jars.
I usually set everything on a clean dishcloth next the stove. Makes sure, however, that any dish rags and cloths you use are ones that can get stained. Having all supplies close at hand will make things easier as you cook. Jam gets hot, and dashing around the kitchen to grab a utensil or ingredient can be dangerous.
Measure all ingredients exactly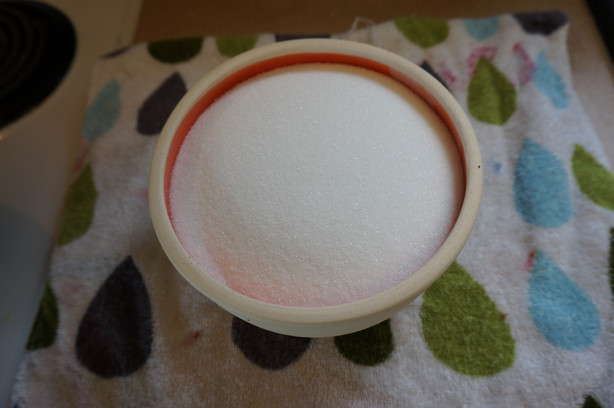 Again, another trial and error one for me. There is something very fickle about pectin; it won't set unless all the elements are arranged perfectly. I always pre-measure my sugar and set it in a bowl next to my other supplies before I get going.
Measuring out the fruit can be tricky as fruit isn't always level. I use a liquid two cup measure and always tap the cup on the countertop a few times to makes sure things are settled. If you run out of fruit and don't have enough to finish your recipe, consider adding a little more of another variety to top things off. One of the happiest mistakes I ever made came when I ran out of raspberries and added a cup of peaches to round out my jam. Raspberry-peach jam is now an autumn standard.
Watch your timing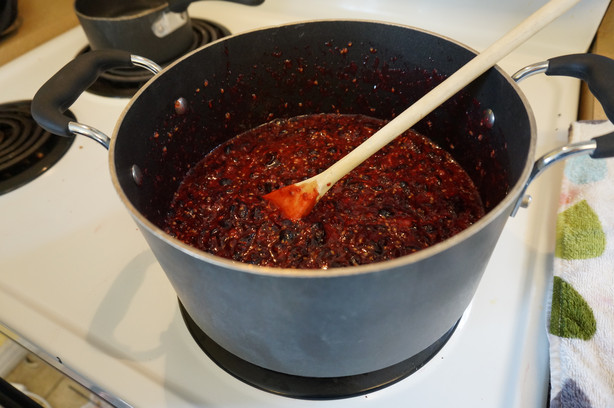 Jam is a precision sport. It is crucial to follow the timing directions on the recipes. Jam that doesn't cook long enough won't set right and jam that cooks too long won't taste good. Most recipes specify letting the jam come to a rolling boil, adding the sugar, and then having the jam come again to a rolling boil for a one or two minutes.
Once your jam starts boiling, you will need to watch it closely. If things are getting foamy, you can add a tablespoon or so of butter to cut down on the froth. I really like jam foam, so I usually skip this step. Once your timer goes off and the jam is done, ladle the liquid immediately into the jars. Make sure the tops of the jars are completely cleaned off before applying the lids and rims. Any stray jam or dirt will affect the sealing (this is where the wet dishcloth comes in handy).
Depending on what method you are using to process the jam once it is canned, check your recipe again to make sure you get everything right.
Now you're done! Enjoy your jam. Don't feel bad if you find yourself eating it with a spoon out of the jar. It happens to the best of us.
×
Photos
Related Links
Related Stories