Estimated read time: 6-7 minutes
This archived news story is available only for your personal, non-commercial use. Information in the story may be outdated or superseded by additional information. Reading or replaying the story in its archived form does not constitute a republication of the story.
SALT LAKE CITY — Gov. Gary Herbert's chief energy policy adviser said Herbert was not favoring big game hunters over dollars for schoolchildren when he insisted Tuesday that school trust land managers made a "flawed" decision on a oil lease.
"He is not asking for (the School Institutional Trust Lands Administration) to take a hit," said Cody Stewart late Tuesday. "He is not asking them to take one for the team and not get compensated."
School trust officials say they can make hundreds of millions of dollars for schoolchildren by leasing the Book Cliffs 96,000 acres for oil and gas development to Anadarko, which is its fiduciary duty. But Herbert said SITLA needs to hit the pause button.
"I am calling on the SITLA board to reconsider," he said.
He said the agency should step back from its plan, particularly regarding the fate of 18,000 acres in the lower south section he described as land with high conservation value.
"SITLA's decision to lease the entire Book Cliffs block could be at the expense of a more vital and potentially more valuable land management strategy," Herbert said.
The issue is this: The contract could net the fund as much as $6 million from one well, the fund's portion from $35 million in gross revenues. Multiplied by many wells, the land could be a financial bonanza to the fund that directly goes to local school districts, with local committees deciding how best to help their children at each school.
Related Story
SITLA's deputy director Kim Christy, in response to Herbert's statements, said it's premature to say what board members may do, but the governor's concerns will be taken under advisement.
The controversy
The erupting tension over last week's board vote on the lease comes after sportsmen blasted the schools land trust decision to enter into a contract with Anadarko for five years to conduct exploratory oil and gas development on the parcel of land in Uintah and Grand counties.
Casey Snyder, Utah coordinator for Trout Unlimited, said the SITLA vote to execute the contract betrayed months of discussions, undermining a partnership several groups thought they had with the administration.
"We went to bed on Monday night with the world one way and woke up Tuesday with the world a different way," he said.
Snyder said he was pleased with Herbert's reaction.
"This is great news," he said. "We applaud the governor. This shows the commitment of the delegation and his office to this process."
Snyder said schools land trust officials, Trout Unlimited and other groups had been working with Rep. Rob Bishop's office in Washington, D.C., to determine which blocks of land could be part of a larger land exchange. Trout Unlimited had one parcel on its list — the Book Cliffs.
Stewart also referenced the process, noting there had been hundreds of meetings to eke out deals for the so-called "Grand Bargain," pushed by Bishop.
Bishop, in a statement released Tuesday, said the SITLA action throws a new dynamic into the mix.
#poll
"The recent SITLA board decision to lease the lower Book Cliffs roadless area complicates the ongoing, collaborative planning effort," he said. "We anticipated that we would encounter some challenges along the way and that there would be complex issues through which we would have to work. The lower roadless area has tremendous values beyond traditional energy resources, and their conservation is a worthwhile endeavor."
The land
Stewart described the roadless, hunting area as a "gem for the state and the country," and said Herbert believes SITLA could realize even more revenue if the quasi-government agency is open to trading it for proven resource-rich land.
While Christy acknowledged there had been talks with a variety of groups regarding the land, he stressed that the block of acreage was always intended for resource development.
While the land may have been on the "wish list" of multiple groups to be included as part of a land exchange Bishop has been crafting, the land in contention was steadily acquired over the years from the federal government with an eye for development, Christy said.
As part of a more comprehensive recreational land exchange already on the board, Christy said SITLA has a pending land trade with the Bureau of Land Management to add to its acreage in the Book Cliffs block in exchange for relinquishing environmentally sensitive lands along the Colorado River corridor in Grand County.
"We have never advocated the south block as a candidate for a land exchange," he said. "This is one of the biggest opportunities to come up for SITLA in decades."
The deal
SITLA's board met last week and heard details of the contract with Anadarko in a closed-door executive session. Christy said such privacy is not unusual given companies' confidential information that may be disclosed as a condition of offering the lease.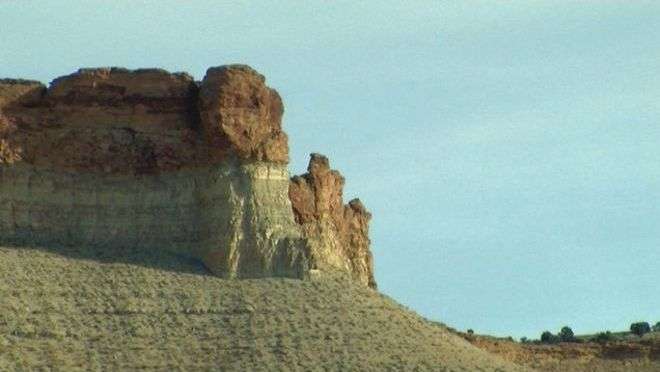 The board then resumed its meeting in public and took an open vote, he said. It was that action that multiple sportsmen's groups decry as betrayal.
"We came to the table, hat in hand, to work together," said Byron Bateman, president of Sportsmen for Fish and Wildlife.
Both Bateman and Snyder described the region as a "mecca" for wildlife — a middle-elevation range plush with vegetation and running water. The Utah Division of Wildlife Resources manages the area as a limited-entry hunt for big game, with points accumulated each year a sportsman is on the waiting list.
"It can take decades to get a permit," Snyder said, "the hunting is of such value."
Christy said hunting and fishing will be not be precluded by an exploratory development, which will be determined in part by assessments performed by helicopter.
"We are sensitive to the fact that the paradigm for the Book Cliffs has been one of pristine hunting, but we feel we can work together with all interested parties to minimize impacts," he said.
Christy said it would have been a breach of the board's fiduciary duty if it had walked away from Anadarko's proposal, which first surfaced about four months ago.
Unlike the Bureau of Land Management, SITLA manages its land not with multiple uses in mind but with the mission of generating revenue for the benefit of Utah schools.
Its 3.4 million acres are managed by a seven-member board of trustees, which oversees operations established by state law.
In 2012, a state-by-state comparison of money generated for schools by land in trust shows that Utah — second only to Mississippi — experienced skyrocketing growth in how much money it has socked away, growing 270 percent since 2001.
Interest and dividends from the fund, now valued at $1.3 billion, are returned to public secondary schools statewide, with a record-setting $29 million being distributed to school community councils in 2012.
×
Photos
Related Stories