This archived news story is available only for your personal, non-commercial use. Information in the story may be outdated or superseded by additional information. Reading or replaying the story in its archived form does not constitute a republication of the story.
PROVO — A 9-year-old's devotion to animals and love for a child with cancer has inspired many.
After selling a pig she raised at the Davis County Fair auction, Mati Ball donated the $4,500 she won to 3-year-old Courtney Simon instead of saving the money for her college fund.
Courtney was diagnosed with cancer, a tumor in her abdomen, just one month ago.
"My brother is the exact same age as Courtney, so I couldn't imagine if it was my brother and what he would be going through," Mati said.
The two families said in the last month they have learned many lessons about kindness, generosity and courage from their children.
"That a little girl would think to do this — this was supposed to be her college saved money, and she donated it to our little girl," said Courtney's mother Lindsey Simon. "It's overwhelming."
The Balls said they are proud of Mati, but also give credit to the 4-H program.
"It's been a really good experience," Mati's mother Randie Ball said. "It's been a good teaching moment for charity and love and everything else you want to teach your kids as a parent."
Mati's father Jon Ball said they couldn't take all of the credit for Mati because it takes a village to raise a child right. And sometimes a child comes to the aid of adults.
"Just being worried about your child, you know, there are a lot of dark moments," said Steven Simon, Courtney's father. "We knew they were an awesome family, but we still didn't expect that."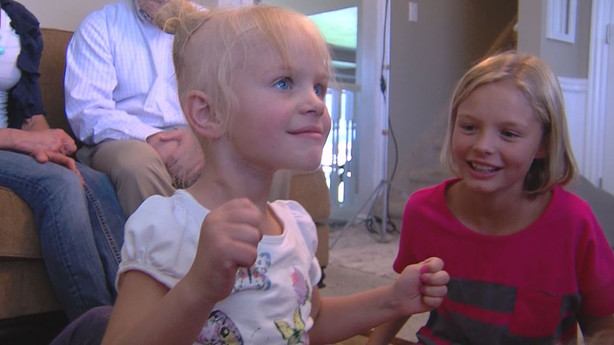 To make this family-to-family connection even sweeter, Mati's mom and Courtney's mom learned they are cousins Thursday. Lindsey Simon said the whole story is just amazing.
Courtney will continue radiation treatments through Oct. 1. Donations can be made to the Courtney E. Simon Medical Expense Fun at any Wells Fargo Bank.
Mati said she's thinking bigger for next year's 4H project, and that she wants to raise a steer.
---
*KSL.com has not verified the accuracy of the information provided with respect to the account nor does KSL.com assure that the monies deposited to the account will be applied for the benefit of the persons named as beneficiaries. If you are considering a deposit to the account you should consult your own advisors and otherwise proceed at your own risk</http:></http:>
×
Photos
Related Links
Related Stories