Estimated read time: 2-3 minutes
This archived news story is available only for your personal, non-commercial use. Information in the story may be outdated or superseded by additional information. Reading or replaying the story in its archived form does not constitute a republication of the story.
KEARNS — More than 400 women from across Utah and surrounding states participated in the annual TriathaMOM race Saturday morning at the Kearns Oquirrh Park Fitness Center.
The race slogan read: Strong Is the New Pretty.
"Every year I am so impressed at the athletes who participate," event organizer Dani Lassiter said. "We have women of every age and fitness level. Some of their stories are so inspiring. I had one of our racers come and tell me this morning that she's lost 130 pounds over the last year training for this."
Lassiter said these kinds of stories are the reason she partnered with US Trisports to start putting on TriathaMOM. "We wanted create an event that would take all the intimidation out of triathlon and make it friendly and doable for anyone. For me, the idea of racing with men while wearing a swimsuit kills it," Lassiter said. "TriathaMOM is a race for any woman."
Many participants said TriathaMOM provides a spirit of unity and sisterhood not found at other events.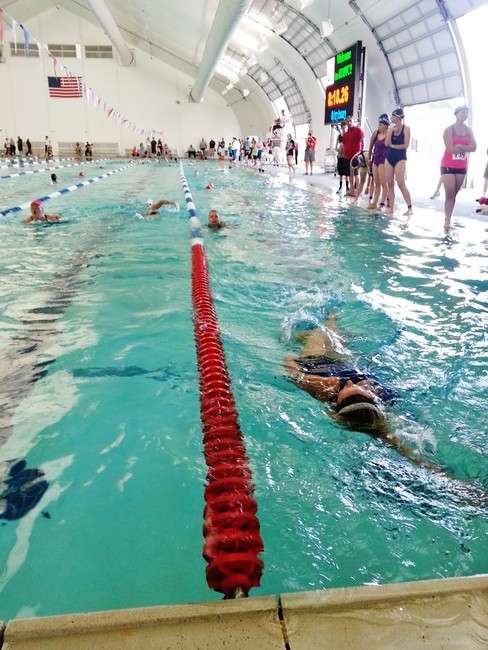 "Every time I passed another woman or one passed me, we cheered for each other. It was really encouraging to be out there doing something challenging and being supported by a sisterhood of women," said Mandi Taylor, who was participating in her first-ever triathlon with her twin sister Jami Bringhurst.
"My swim was not pretty, but … whatever. It was doable, and now I've checked triathlon off my bucket list. Now that I've done it, I think I've caught the bug. I'll definitely do it again," Taylor said.
Women of every age, size and fitness level came out to compete, including Ashley Davis, who gave birth to her daughter Summer just five weeks ago. "I just registered on Wednesday. I can't believe I did it," Davis said.
With 400 moms participating, there was an army of supportive spouses and children waiting for their wives and mothers to cross the finish line.
The TriathaMOM provided a carnival-like atmosphere with cotton candy, face painting and bounce houses to keep the kids entertained and out of traffic while mom was gone. It also provided a sign-making station where kids could make a poster to help cheer for the racers.
"We try to make it fun for the families. It's easier on the dads who are there to support their wives. We hope the dads will want their wives to do the race and hope everyone goes home happy having had a great day," Lassiter said. For more information, go to the TriathaMOM website or the US TriSport website. Kristin Sokol authors TheVocalSokol.com, a blog dedicated to helping women stay happy mostly by doing fun things.
×
Photos
Related links
Most recent Utah stories