This archived news story is available only for your personal, non-commercial use. Information in the story may be outdated or superseded by additional information. Reading or replaying the story in its archived form does not constitute a republication of the story.
JONES HOLE CANYON, Uintah County — It's been a month since a massive rock slide sent boulders the size of trucks tumbling into and across Jones Hole Creek, and a thick layer of cream-colored sandstone dust still coats every surface.
It clings to shattered tree trunks, withered leaves and rocks.
Even the dirt trail itself, which is typically red, is buried under the dust.
With little to no rain, and even less foot traffic, the Jones Hole Trail looks almost exactly as it did after the slide.
"The whole slab just separated and fell," Jones Hole National Fish Hatchery program manager Kip Bottomley said Thursday, describing what he saw on June 20 to National Park Service geomorphologist Eric Bilderback.
"It was in one piece until it hit that ledge," Bottomley continued, pointing to a spot high on the cliff. "When it hit there, it just exploded." Bilderback spent Thursday taking measurements and photographs of the slide area and the cliff where the slide originated in an effort to help Dinosaur National Monument officials determine whether it's safe to reopen the area, which is extremely popular with anglers.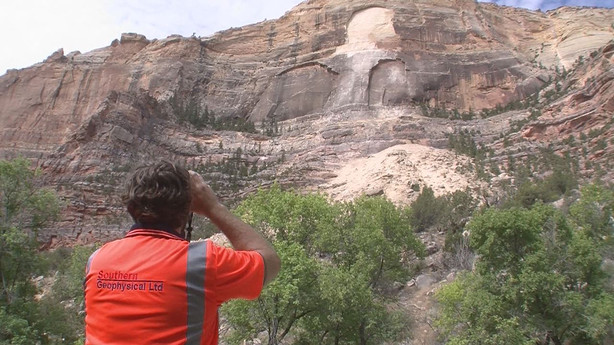 "There are still reports of some minor rocks falling every so often," said Dan Johnson, the monument's chief of interpretation and visitor services.
"We're not sure how active the slide still is and what the potential is for the threat to the public," Johnson said.
The first reported rock slide happened June 18, when a large slab of rock broke free from a cliff face less than a quarter mile from the fish hatchery. Park rangers checked the area, but did not see any other slide activity.
Two days later there was a small slide in the morning, followed by a larger one about noon. In the third slide a 100-by-50 foot section of rock that was more than 10 feet thick sheered off the cliff, broke apart and sent boulders into and across the creek.
"Nobody would want to be in that creek when this event happened," Bilderback said. "There were numerous boulders that landed in the creek and any one of those boulders could have caused serious injury or death."
The largest of the boulders created that day is more than 10 feet tall and 10 feet wide. It crashed into a tree that no blocks the trail.
"(The boulder) came down off the cliff over a thousand feet up and went 1,200 feet past the base of the cliff," Bilderback said. "There's evidence of a lot of that travel actually being through the air, so it would hit something and then it would be airborne, and then it would hit something and jump again."
While he said the slide would have been incredible to witness, Bilderback said events like this aren't necessarily uncommon. "One the (same) slope here there is evidence of two previous events about this size in geologic history," he said. "So maybe not in human history, but in the last couple thousand years."
The monument's management team will review Bilderback's report once it is complete, and decide whether to reopen the trail and the surrounding National Park Service lands from the fish hatchery boundary to Ely Creek, Johnson said. Until then, anyone caught in the area will be issued a citation by park rangers.
---
×
Photos