SALT LAKE CITY — BYU has been called quarterback U, Utah seems to put defensive lineman in the NFL every year and Utah State had three running backs drafted in two years.
Every local team has their little niche of depth. This week at ksl.com, the experts are going to write about each team's greatest depth.
In the first six years of Bronco Mendenhall's tenure the offensive line for BYU was never an issue. With Lance Reynolds as a coach a pipeline of Reynolds linemen, Lance, Jr., Dallas, Houston and Matt, all held down positions on the line over the past half decade. They had backups for their backups, but last year suddenly it became a question.
This week's schedule
Monday, July 1: Introduction to the wee
Tuesday, July 2: What is BYU's greatest strength
Wednesday, July 3: What is Utah's greatest strength
Thursday, July 4: What is Utah State's greatest strength
Friday, July 5: What is the greatest strength in Utah
The Cougars have had receivers for the past few years. At one point McKay Jacobson was the heir apparent to Austin Collie. In 2011, The Cougars then brought in Cody Hoffman and Ross Apo and even JD Falslev found his niche. Suddenly there was a lot of talent, maybe the most BYU had seen at receiver.
The tight ends for BYU have seemed to come in spurts. Tevita Ofahengaue, Doug Jolley, Spencer Nead and Gabriel Reid all essentially played together. Chad Lewis and Itula Mili spent time together. Johnny Harline, Daniel Coats and Andrew George were on the same team. Later George paired with Dennis Pitta.
The past few years BYU's running back position has been exceptionally strong. Harvey Unga and Curtis Brown were on the same team in 2006. They are the top two BYU rushers of all-time. Unga's last year the Cougars had Josh Quezada, JJ Di Luigi and Bryan Kariya. Two years ago that trio was joined by Michael Alisa. Alisa then had Jamaal Williams join the fun.
Are any of those positions deep this year? Is it somewhere else? Could the defense be the great strength this year?
Utah has normally had the other side of the ball locked down.
Paul, Joe and Dave Kruger have been on the defensive line/ rush linebacker for years. Add Star Lotulelei, Koa Misi, Derrick Shelby, Sealver Siliga and Stevenson Sylvester and the past three years Utah football has had a great defensive line. This depends on what defense Utah was playing at the time.
The defensive backs for the Utes have had a great run also. The 2008 Sugar Bowl team had R.J. Stanford, Sean Smith, Brice McCain, Robert Johnson and Brandon Burton. Each player has been drafted. The Utes have been able to add each year and there should be no slowing down the players who will be playing on Sunday from the defensive backs.
Even the offensive line has been especially strong lately for the Utes. In 2009 they had Zane Beadles, Tony Bergstrom and Caleb Schlauderaff, all have since been drafted. On top of that they had Vyncect Jones, who is starting this year at center.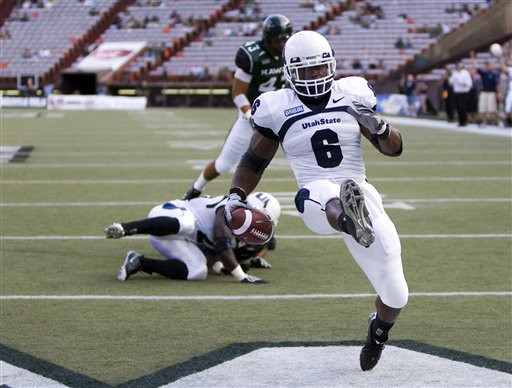 What is the Utes biggest strength? Find out on Wednesday.
For Utah State think about the running back group of two years back. In 2011 the Aggies had Kerwynn Williams as their third back. Robert Turbin and Michael Smith combined for 2,400 yards rushing and got drafted. On top of that they had Joe Hill who will be the starter this coming year.
They have also been able to run out a nice set of cornerbacks. Before Gary Andersen the program wasn't in great shape and they are slowly getting competition and depth.
What is their greatest position of strength? Easy to say Chuckie by himself, but it could also be the offensive line or maybe the linebacker group. Check back on Thursday to find that out.
What is each of the local team's greatest strengths? Check back everyday this week to find out.
×
Related Stories