This archived news story is available only for your personal, non-commercial use. Information in the story may be outdated or superseded by additional information. Reading or replaying the story in its archived form does not constitute a republication of the story.
SALT LAKE CITY — When was the last time you talked to someone who went on a road trip? Not the two-day campout to St. George. And sorry, but recently watching "National Lampoon's Vacation" doesn't count, either.
I'm talking about a true cross-country road trip. You know, the kind that took place in the 1975 Woody station wagon with the luggage haphazardly tied on top, the family dog's ears flapping in the wind out the open window.
When sharing the news that my family of five was planning a nearly three-week road trip, I received some colorful responses. I'd rather find a used Band-Aid in my food, one friend told me, than suffer through that. No way. My husband would never agree to that, said another. My neighbor in a quiet voice muttered, "In the car. Together. For how long? Why not Disneyland?"
These comments echoed in my head as I spent the next two days doing laundry and mastering the art of packing light so we could somehow squeeze into our "not new" Ford Expedition with a cargo carrier on top, hoping that the recently installed $5,000 refurbished engine would be able to last the entire trip. I questioned over and over again our sanity in traveling through 28 states, in 21 days, and more than 6,500 miles together.
---
We were more focused on each other, on being a team, and finding the joy in the creations around us.
---
While we live, let's liveOver a year or so ago, my husband and I had a frank conversation about what we wanted out of life, goals for our family and for ourselves. We both came to the conclusion that we wanted fewer things and more experiences. As Henry David Thoreau put it, we wanted to "suck out all the marrow of life."
We were growing weary of the hamster wheel, just focusing on making it spin. We craved a meaningful family experience, one that we couldn't explain in 140 characters and that didn't include a news feed. One that our children would never forget.
Almost immediately we got started on planning the mother of all road trips.
At this point, you might be thinking yeah, great for them, but I could never pull something like this off.
That's what I thought too. But luckily, by planning ahead and obtaining a specific hotel rewards card a year or so in advance, we only had to pay for three out of 20 nights. By selecting a hotel chain that included breakfast each morning and making lunch every day in the car by stopping at grocery stores along the way, we only ate out one meal per day, which cut our costs significantly.
Now we see
When you're driving long distances, suddenly all you have is time — a stark contrast from normal. Life becomes simplified. We forgot what day it was; and you should have seen the look on that lady's face in the store when I asked her what state I was in. We were more focused on each other, on being a team, and finding the joy in the creations around us.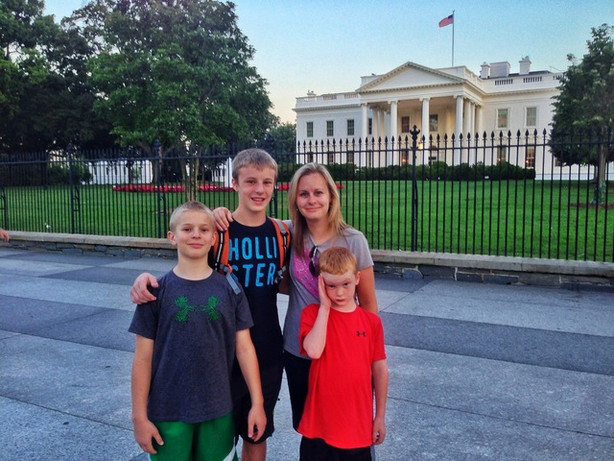 I'm not going to go all "seriously so blessed" on anybody. Make no mistake; it certainly wasn't without a fair share of whining, complaining and the dreaded "how much farther" stuck on repeat and other unmentionables that pushed our patience to beyond expert level. It forced compromise and negotiation, especially considering there's lots of pavement ahead and there's nowhere to run. And, yes, it's a ton more work than Disneyland, LEGOLAND, a cruise and all-inclusive resort combined. As with most experiences in life that require much thought and effort, the consequence is often an increased reward.
Whether at the top of the CN Tower in Toronto, or running our hands across the names carved into the 9/11 Memorial, or seeing Room 306 of the Lorraine Motel in Memphis, Tenn., there was an unforgettable lesson in nearly every location.
On the subway in New York City, we came face-to-face with a homeless man carrying three prescriptions in his right hand talking to himself and his imaginary audience. Later, my three boys, who range from 8 years old to 15, had lots of questions about what we saw, prompting important discussions on how we can better understand and help those around us who are suffering from poverty, homelessness and mental illness. Only in Boston on the Freedom Trail do you get excited to see your in-state university rival, both of us proudly wearing our respective team caps. We all are connected somehow, even if our passions might conflict. Sometimes what might divide us at one time can actually unite us at another.
We still laugh when remembering the lady at the Red Sox game blurting out, "Hey uh, wheyah gahs from withaht accent?" Or realizing that our shorts just got burned after sliding down a 10-story spiral slide at St. Louis's City Museum.
Related:
I saw tears in my "tough guys" eyes in Winter Quarters as they heard the story about pioneer Mary Goble who lost her mother and two siblings while trekking west. Then, after finally arriving in the Salt Lake Valley her feet were so frostbitten that the doctor wanted to take her feet off at the ankles. Brigham Young said to just take her toes and promised her she'd never lose her feet. Her feet got worse before finally getting better. We discussed the inspiring legacy our ancestors left for us and that we can honor them by standing strong in the face of trials.
Gordon B. Hinckley once said, "We are warmed by fires we did not start and drink from wells we did not dig." I knew my kids were starting to understand this important concept when I heard my 8-year-old say quietly when walking through Arlington Cemetery as we walked up the path to witness the changing of the guards, "… brave soldiers who died while fighting for us …."
We developed a deeper reverence and gratitude for those who went before us sacrificing much, even their very lives, to form this great nation and to keep our freedom intact.
If you want a vacation, an experience that will leave an impression on the hearts of everyone in your family, take a road trip. Learn more about our incredible country, why it's important to be an involved citizen, and create your own family legacy. You'll be amazed at the thoughts going on in your children's heads, about the hopes and dreams of your spouse as you're driving next to old route 66 after heading back from spraying graffiti on one of seven Cadillacs stuck in the ground hood first at a 30 degree angle. Now that's a memory none of my children will ever forget. Leeann Whiffen is the author of "A Child's Journey Out of Autism" and founder and president of Utah Autism Give. To view the trip route including photos, please visit: whifffamilyroadtrip.wordpress.com.
×
Photos
Related Links