PANAJACHEL, Guatemala — Two former Utah couples and their children are giving indigenous Latin American people a chance at a better life and health by helping them build homesteads and educating them to farm and raise animals.
Greg and Lucy Jensen, along with Greg and Rachel Denning and their children, have spent more than 15 years combined living in Latin American countries. A few years ago, the Jensens sold their Highland, Utah, home along with everything in it, and have lived outside of the United States since July 2011. They rented a home in Guatemala for some time before meeting up with the Dennings and purchasing a home there.
The Jensens work various jobs to sustain their family of six. They give running tours of Guatemala, and work with another touring company as tour guides, in addition to other small jobs. But the endeavor for which they have the most passion is about giving back to the country they show tourists.
Along with the Dennings, the Jensens are working to educate and give the indigenous Guatemalan families a model for farming that will sustain them, offer better nourishment and improve their impoverished lives.
Upwards of 90 percent of Guatemala's indigenous people live on an income below the poverty line, according to the World Bank. Only 2.5 percent of farms control 65 percent of agricultural land. Few of the indigenous people know how to read and write, and the country has not made adequate investment in education, health and nutrition for their poor to get ahead.
That disparity is, in part, why the Jensens and Dennings are getting involved. They recently helped a Guatemalan family, who lived on $1,935 a year, build a homestead on which they can grow produce, raise chickens, pigs and tilapia. The homestead, developed on a 25 meter by 25 meter piece of land the woman already owned, has a composting toilet, solar water heater and smoke-reducing, fuel-efficient stove. Their purpose of the Mayan Eco Homestead project, they said, is to improve the indigenous people's living conditions and health.
Greg Jensen said he believes the project will be successful because it's about educating, rather than just donating, to the people, like many charity groups in the country. They developed their plan to offer continuing education after they installed garden boxes for several families, only to to find upon return the gardens failed.
"So we kind of sat back and analyzed, 'Well, what did we do wrong, why didn't they work?' " Jensen said. "We discovered that we just waltzed in there, just like these other groups and said, 'Hey, this is great, you should do it,' did it, and then we walked away — we didn't really follow up or teach them. They didn't really get a vision."
This time around, they realized they needed to work more closely and continuously to have a chance at success. They not only gave the Guatemalan family the supplies they needed, but took the time to teach them, follow up and make adjustments.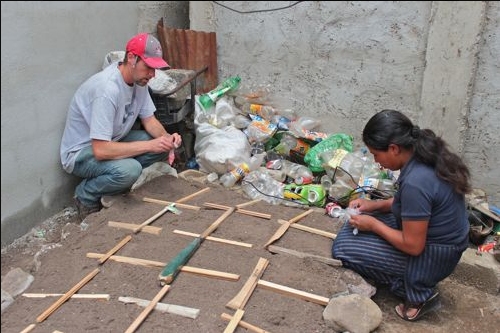 "They can come here, as we get things developed, and see things and learn things, but not get anything for free," Jensen said. "If they want something, they come learn and earn — they learn all about this gardening process — and once they've spent all these hours doing that, then they can get from a donation a small garden box that volunteers will help implement at their home. Now they know how to do it, so now we know it's probably going to work and we can do better follow-up."
Using the homestead they have already established as a model that other Guatemalan people can visit and learn from, they hope the homesteading project will be more than just a "Band-Aid" solution to the problem of malnutrition and poverty.
"That's what's awesome about this project — we're not just giving clothes, or food or money — this project is living and growing and expanding. It's alive," wrote Rachel Denning on her blog. "They're learning new life skills that will perpetuate through generations. It will be difficult for them sometimes — they'll be ridiculed by their neighbors and frightened that it will fail — normal feelings that come when pursuing a dream."
The family has been able to sell eggs from their 53 laying hens, breed pigs and sell their surplus vegetables for additional income.
"It won't produce an income right away, it takes time," Denning wrote. "In the long run, he and his family will be better off."
Using their local contacts, the Jensens and Dennings are anticipating the program's extension beyond the one family they have helped. They are fundraising* on the Indiegogo website for their Eco Friendly Learning Center for Malnourished Guatemalan Families.
---
*Disclaimer: ksl.com has not verified the accuracy of the information provided with respect to the account nor does ksl.com assure that the monies deposited will be applied for the benefit of the persons named as beneficiaries. If you are considering a deposit or donation you should consult your own advisors and otherwise proceed at your own risk.
×
Photos
Related Links
Related Stories