Estimated read time: 3-4 minutes
This archived news story is available only for your personal, non-commercial use. Information in the story may be outdated or superseded by additional information. Reading or replaying the story in its archived form does not constitute a republication of the story.
SALT LAKE CITY — When the temperatures rise, many people head to the only place they can stay cool outdoors — the swimming pool. However, if you aren't in the mood to fight the crowds at your local rec center, here is a list of 4 natural swimming holes to enjoy.
Mill Creek North Fork Canyon swimming hole
Moab offers a variety of excellent swimming holes, one of which is the Mill Creek North Fork Canyon pool. The North Fork of Mill Creek Canyon offers a nice hike up the canyon with a clear stream. A pool is at the end of the hike. Petroglyphs can also be viewed along the trail.
The hike is moderately easy and no special gear is required to get to the pools.
To get to the swimming hole, drive east on Center Street in Moab, then turn south onto 400 East and then turn east on Mill Creek Drive. Continue driving on Mill Creek Drive and then turn left and head north on Powerhouse Lane. Drive on Powerhouse Lane until it ends at a dirt parking area. The trail head begins there.
Meadow Hot Springs
Meadow is a small town four miles south of Fillmore along I-15. The remote Meadow Hot Springs are on private property, but the owner has continued to make them accessible to the public.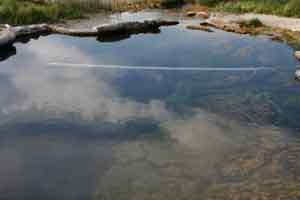 There are three different pools with a walking path connecting them. The first pool is crystal clear with a temperature of about 100 degrees. The other two pools are west of the first pool, and aren't quite as warm, but may be more enjoyable on a hot day.
To get to the Meadow Hot Springs take the Meadow exit on I-15, and turn left. Continue driving south on that road until you begin leaving Meadow. Shortly after you pass the last buildings in town on your left, there is a dirt road on the right. Head west on the road until you reach a parking area. The hot springs are located about 150 yards from the parking lot.
Mona Rope Swings
The Mona Rope Swing or "Burriston Ponds Rope Swing" is located in Mona, about 45 minutes South of Provo on I-15. There are two different rope swings at the pond attached to a tree. One is shorter and one is quite high. Both swings will drop you between 15 and 25 feet into the water below. The pond is deep enough that you don't have to worry about hitting the bottom and injuring yourself.
People are allowed to camp overnight near the pond or you can just go for the day.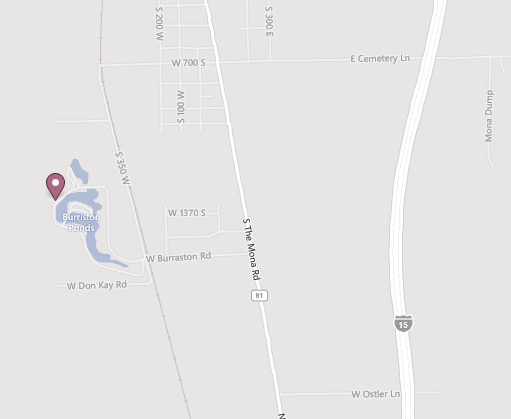 Calf Creek Falls
Calf Creek Falls is one of Southern Utah's beautiful landmarks. Located near Escalante, the lower Calf Creek Falls have beautiful 126 foot waterfalls. The hike to the falls is 5 1/2 miles round trip. A nice swimming pool lies at the bottom of the falls that can be enjoyed by tired hikers.
A recreation site and campground is located along Utah Highway 12, 15 miles east of Escalante.
Have you been to any of these swimming holes? Did we miss any of your favorites? Let us know on the comment boards or email me.
Editor's Note: This list has been edited since its original posting. The Alpine Sliding Rock is located on private property and the owner does not want it open to public access.
×
Related links
Most recent Utah stories