This archived news story is available only for your personal, non-commercial use. Information in the story may be outdated or superseded by additional information. Reading or replaying the story in its archived form does not constitute a republication of the story.
SALT LAKE CITY — Summer thunderstorms creep up from nowhere and create dangerous, even deadly situations in the desert. Sixteen years ago, one such storm swept away a group of tourists near Page, Ariz. The only person who survived was their tour guide, Pancho Quintana.
Quintana just wrote a book about that deadly day in Antelope Canyon and his years-long search for the 11 who never made it out.
Sometimes called Corkscrew Canyon, the area's contorted, twisting walls were shaped over the millennia by thousands of flash floods. When Quintana brought European tourists there in August 1997, some were excited by the scenery; others were nervous and wouldn't go in.
"Half the group, they just felt it and they lived," Quintana said in a 2004 interview with KSL News. "The other half, you couldn't pull them out of there."
What none of them realized was that a thunderstorm 17 miles away was dumping a huge amount of rain into the drainage. Above the slot canyon, a flash flood filled the wash 10 feet deep. All that water suddenly heading for a narrow crack in the ground.
---
There was ladders tumbling and people tumbling and we were up on a cliff watching. Then it kept rising, and it kept rising, and it came up to the ledge we were at.
–Pancho Quintana, survived flash flood
---
"About that time I heard the walls start moving. The dirt started jumping about 6 inches off the ground and it sounded like a jet plane, so I thought it was an earthquake," Quintana said.
With two others, he looked up the canyon and saw a rooster tail of water. He knew disaster was coming.
"I climbed up a ledge and pulled them up with me," he said, choking back tears. "There was ladders tumbling and people tumbling and we were up on a cliff watching. Then it kept rising, and it kept rising, and it came up to the ledge we were at."
Suddenly caught in an eddy, he and two tourists struggled to stay afloat, hoping the rising water might lift them all the way out of the canyon. Then another man, Thierry Castell, floated up out of nowhere, struggling, crazed with fear.
"He grabbed Charlotte and he pushed her under the water. And he was about chest high out of the water, and she was gone and disappeared," Quintana said. "So I put my hand on Anders shoulder and I kicked Thierry in the chest, and he flies off."
The force of his own kick pushed him toward the main current.
"They grabbed my hands, and I said, 'Hang on to each other!' Because I could feel I was getting pulled out of there and ... (it was) time to go down through that canyon," Quintana said through broken sobs.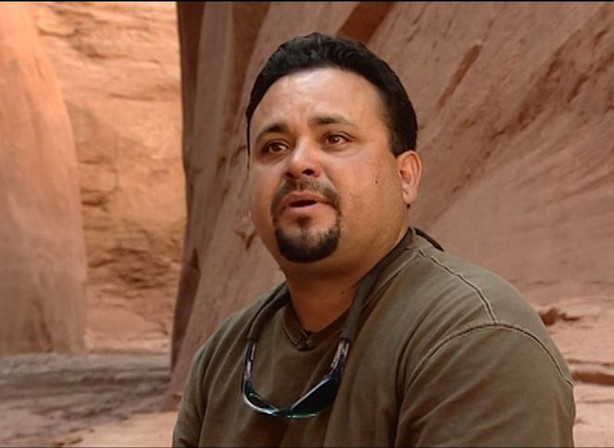 #quintana_pic
"The water was moving so fast that my hands were behind me and my head was forward," he said. "I was looking at that wall, and it was so powerful that I couldn't put my hands in front of me to stop me."
After smashing head-first into the wall, Quintana did stop — in an eddy behind a waterfall.
"I couldn't get out. I just swirled and swirled and swirled," he said. "I tried everything to get out."
Quintana began telling himself his life was finished.
"That's it. You got to go. You know what? You're going to die, right now!" he said. "It's going to happen."
He took a deep breath expecting to drown, but then got a mouthful of air.
"For some reason it shot me over the top of that waterfall and I was out of there," Quintana said.
He wound up in a wider part of Antelope Canyon, alive and out of danger. Over the years, he's asked himself more than a million times: "Why did I alone live? What was I spared for?"
"I don't know yet. I don't know, but I do know I'm getting close to whatever it is," he said.
According to Quintana's blog, his book "Breathe for Me: Surviving the Antelope Canyon Tragedy," started as a letter to his daughter, written so she would one day know more about her father.
The book is available for pre-sale on Amazon.com and will be released August 12, the sixteenth anniversary of the flood. All proceeds will go to Quintan's upcoming nonprofit group, which is dedicated to helping kids living in group homes around the country.
Contributing: Linda Williams
---
×
Photos
Related Links
Related Stories