This archived news story is available only for your personal, non-commercial use. Information in the story may be outdated or superseded by additional information. Reading or replaying the story in its archived form does not constitute a republication of the story.
SARATOGA SPRINGS — Two Utah men hope to be the first to ride the 1,400 miles across Antarctica to the South Pole and back on bicycles.
Daniel Burton and Todd Tueller, both of Saratoga Springs, are readying themselves to brave the 40 below temperatures, 30 mph plus headwinds and dangerous terrain of Antarctica on fat bikes as part of an international race in December.
Burton and Tueller will be accompanied by Antarctic expedition guides on snowmobiles, who will carry their gear, including additional equipment, and provide critical knowledge of the ever-changing terrain.
They will travel 1,400 miles from Hercules Inlet to the South Pole and back on the bikes during Antarctica's summer months. To combat the extreme cold and winds — which average 50 mph, but can reach 200 mph — Burton, Tueller and the guides will climb from sea level to over 9,000 feet.
They intend to film the entire trek and turn it into a documentary with the help of Emmy-award winning director Michael Karr and local producer Lance Williams. The documentary, Burton said, will be used as a pilot for a mountain biking adventure series.
Currently, they are raising money via Kickstarter and GoFundMe for the trip and documentary.*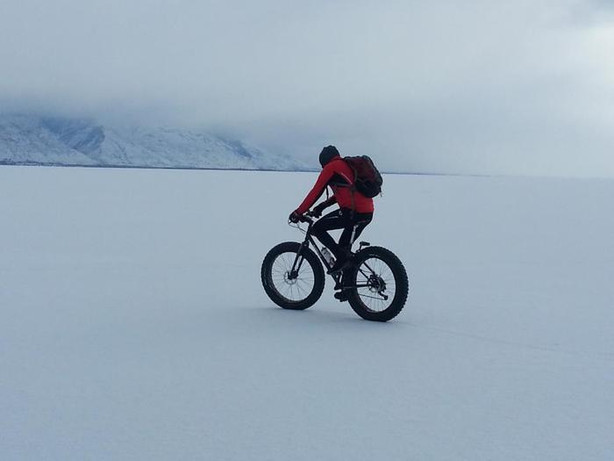 For Burton, the expedition is more than just being the first to do something; it's a way to promote healthy living. Burton began mountain biking after spending 23 years as a computer programmer for WordPerfect and Novell. When his cholesterol and blood pressure rose to dangerous levels, he turned to mountain biking to help him lose weight and improve his health. Soon, he was biking more for pleasure than health.
After being laid off at Novell, Burton turned his passion into his livelihood. Using his life's savings, he opened Epic Biking in Saratoga Springs. His motivation for the shop, he said, is getting people like himself active.
"The whole idea behind the bike store was to help other people get those health benefits and to improve the health and life of other people by getting them into cycling," Burton said. "To me, if you're going to have something that you're going to do for the rest of your life, it's got to be fun and enjoyable. And cycling is that."
Anyone, he said, can ride a bike, and it is has a lot to offer as a sport.
"Everyone, from little 2-, 3-year-old kids to 80-year-old men and women can ride a bike. It's a good lifetime activity that is enjoyable and it's good for your health," he said.
The expedition to the South Pole is an extension of that, he said. As he documents his travels, he hopes people will be inspired to get out and ride. Burton said the most rewarding part of mountain biking — and what he assumes will be the best part of the trip — is the feeling of accomplishment he gets after a challenging ride.
"It's an adventure, doing something that's never been done before. It's just an extreme adventure," he said. "I always want to say it's going to be fun, but it's not going to be fun. If you go and read the logs of all the people people doing it, quite often it's a very trying and miserable experience."
"But it's just like when I go mountain biking and I climb a hill that doesn't seem climbable. It's not that it's fun to climb it, it's the challenge and accomplishment of doing something that's difficult to do."
---
*ksl.com has not verified the accuracy of the information provided with respect to the account nor does ksl.com assure that the monies deposited to the account will be applied for the benefit of the persons named as beneficiaries. If you are considering a deposit to the account you should consult your own advisors and otherwise proceed at your own risk.
×
Related Links
Related Stories