VERNAL — A man being sought by Vernal police for cutting off the electronic ankle monitor he was required to wear while awaiting trial in a sexual assault case has been arrested in Arizona.
Jesse Anthony Saenz was arrested Monday night in Glendale, Ariz., according to the Maricopa County Jail. He was taken into custody about 6:30 p.m., roughly 24 hours after Vernal police say he cut off an electronic ankle monitor and fled the state.
Saenz, 23, is charged in 8th District Court with aggravated kidnapping, aggravated sexual assault, object rape, forcible sodomy and forcible sexual abuse, all first-degree felonies. He also faces misdemeanor counts of failure to stop at the command of police, damaging a communication device and criminal mischief.
On June 10, a man living near 50 West and 600 North heard yelling outside his home about 2 a.m. and went to investigate. He witnessed a man smack a woman, then grab her by the throat and drag her into a field, according to charging documents.
The homeowner called 911. Responding officers found the man and woman still in the field. The man — later identified as Saenz — attempted to flee, but a Taser was deployed and he was arrested.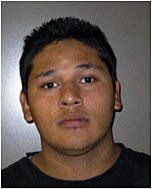 Saenz did not know the woman he is accused of attacking, police said.
During Saenz's first court appearance, Judge Ed Peterson denied his release on bail, citing his belief that Saenz posed "an immediate danger to the community," court records show. But Judge Clark McClellan, to whom the case was assigned, set bail at $178,000 in December.
The amount was agreed upon by the prosecution and the defense. It covered not only the June arrest, but also an unrelated forcible sodomy case that was filed against Saenz in November based on allegations that he sexually abused a relative in 2005 when Saenz was 16 years old.
Saenz posted bail in March and was fitted with an electronic ankle monitor as a condition of his release. He was also given a 9 p.m. curfew and was barred from entering the Vernal area, except to appear in court.
The woman Saenz is accused of attacking told the Deseret News in March that she feared for her safety because he was out on the streets.
"I don't think it's safe for other people, either," she said. "I have a real hard time with it."
As an adult, Saenz has misdemeanor convictions for theft and interfering with an arresting officer, court records show. His juvenile record, however, shows he was referred to juvenile court in 2007 on allegations of rape of a child and sex with a minor under the age of 16. He was ultimately placed in a secure facility for juveniles.
Saenz remains in an Arizona jail, awaiting extradition to Utah. He is being held without bail.
×
Related Stories