Estimated read time: 2-3 minutes
This archived news story is available only for your personal, non-commercial use. Information in the story may be outdated or superseded by additional information. Reading or replaying the story in its archived form does not constitute a republication of the story.
SALT LAKE CITY — A video has surfaced that the paragliding community claims is Dell "Super Dell" Schanze chasing and kicking a migratory bird near Utah Lake.
The video, supposedly taken two years ago on the west side of Utah Lake and posted to YouTube April 6, has drawn sharp criticism from the paramotoring community online. The community has responded to the video by petitioning the U.S. Fish and Wildlife Service, the Federal Aviation Administration, the Utah Fish and Game, and local law enforcement agencies.
Carl Arky, spokesman for the Humane Society of Utah, said he's apalled by the video.
"(I've) never seen anything like that before in my life," Arky said. "The Humane Society and everyone who supports us condemns this."
Schanze's face is not shown in the video, as the camera appears to be mounted above a head, but the paragliding wing matches that which he has posted online, and a shot of the paramotorist's hand shows a missing left index finger. Schanze lost a part of this finger on a freeway reflector post. Commenters also pointed to Schanze wearing similar clothing, gloves, and boots.
In the seven-minute video, a paramotorist chases a bird — thought to be a hawk or an owl — and kicks the bird twice. A second paramotorist is shown, but does not appear to participate in the abuse.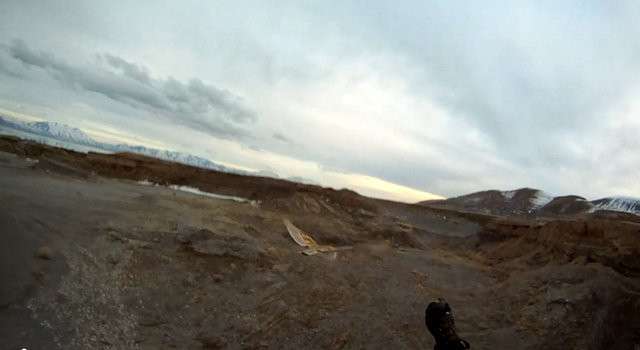 "There isn't a single person I know, paraglider pilot or otherwise, who thinks it's morally acceptable to treat another animal in this way," wrote FreeFlyingDuck on a paragliding forum.
There is some question as to the production of the video. The source of it is unknown, and the voice at the beginning has no background motor noise.
Schanze declined to comment, and told KSL reporters not to contact him.
Whether or not the person in the video is Schanze, however, the paramotor community is most concerned that government officials will take a "shotgun approach" and ban paramotor flight in the area rather than deal with the individual.
In June 2011, Schanze was charged with an unclassified misdemeanor after jumping from the Astoria Column in Astoria, Oregon. Schanze was found operating a speed glider near the Peter Iredale shipwreck on the coast of Oregon.
The case has been turned over by the Utah Division of Wildlife Resources to the the U.S. Fish and Wildlife Service.
Contributing: Jennifer Stagg
×
Photos
Related stories
Most recent Utah stories