This archived news story is available only for your personal, non-commercial use. Information in the story may be outdated or superseded by additional information. Reading or replaying the story in its archived form does not constitute a republication of the story.
SALT LAKE CITY — Would you make a house that is less than 400 square feet your permanent home?
After learning about Sarah's House Project, we wanted to spotlight some of the other small homes that are taking the country by a miniature-sized storm.
Below you will find five real-life homes that might remind you of those Ikea showroom houses or a glorified childhood playhouse, but use their space well or make a story out of it.
World's Skinniest House
This house is not for the claustrophobic, but it is intriguing.
In Warsaw, Polish architect Jakub Szczęsny built an art installation in the form of a 4-feet wide temporary home (at its thinnest it tapers to 3-feet wide and 5-feet wide at its widest) between two existing buildings.
The structure was funded by the Foundation of Modern Polish Art, and serves as a home for traveling writers.
Though narrow, the house is surprisingly bright and airy.
New York City's Micro Apartments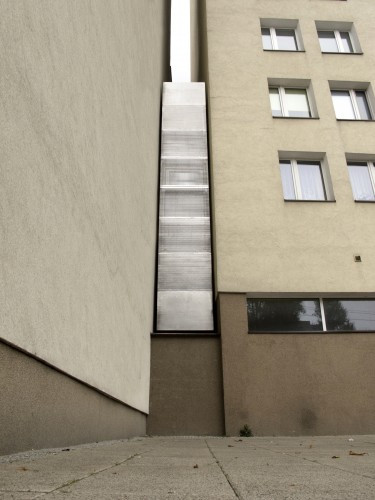 As an answer to sky-high living costs in Manhattan, the city held a competition to design efficient and beautiful 250- to 370-square-foot apartments. The winner, nARCHITECTS, designed the modern space with high ceilings, dual-use furniture, and balconies to maximize its efficiency.
The project will create 55 new micro-units prefabricated by a local company. The apartment design allows for "ample storage" and compact kitchens with full-height appliances, the mayor's office said. The building itself squeezes an attic garden, a porch with picnic tables, laundry and storage areas, a fitness space, and a bike room.
Capitol Reef Pioneer House
In Utah, anyone who has traveled into the backcountry has seen the tiny log and adobe homes built by pioneers. It seems people are looking back on a simpler time when they swap square footage and elbow room for something smaller.
This 10-feet by 12-feet home in what is now Capitol Reef National Park was, at one time, home to 11 people, according to the Tiny House Blog.
The stone and mud house fits right in with its stunning red rock surroundings. And, like many tiny houses now, its inhabitants used that landscape as an extension of their home. The Tiny House Blog author Kent Griswold writes that some of the eight children would sleep in the rock ledges behind the house.
Y-Shaped House
In just 209 square feet, this Japanese house manages to fit a lot of interesting architecture. Y-shaped columns support the house's pitched roof, as well as create divisions between rooms.
On its ground floor sits the living room, and kitchen, with loft bedrooms above. The well-lit house boasts an open-air floor plan, with steps up from the living room to kitchen and dining areas, and lots of windows looking out to the landscape.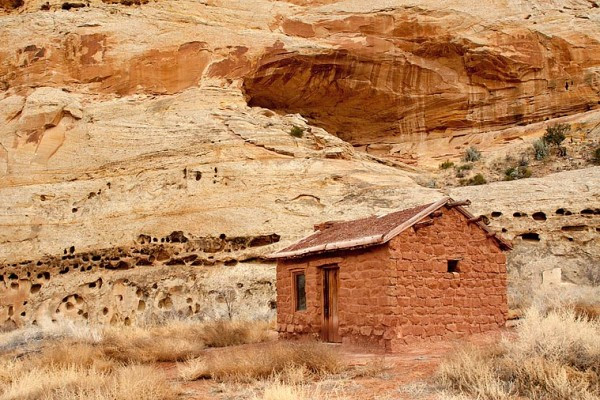 The Spite House
In Alexandria, Va., a 7-foot wide house sits snugly between two other townhomes. The 25-foot deep house is two stories tall and just 325 square feet. The New York Times called it "more of an enclosed alley than a house — the brick walls of older houses on either side form the painted brick walls in the living room."
The house was built in 1830 by frustrated homeowner John Hollensbury. He owned one of the homes next to the alley-turned-house, which was too narrow for wagons to go through without scratching the exterior walls of his home.
Other spite houses can be found all over the country, but this is probably the smallest one.
Whatever function these tiny houses serve — be it economic, environmental, practical, or just plain spiteful — they raise the question to nearly everyone who encounters them: Could you live in a tiny house? Let us know in the comments.
×
Photos
Related Links
Related Stories