This archived news story is available only for your personal, non-commercial use. Information in the story may be outdated or superseded by additional information. Reading or replaying the story in its archived form does not constitute a republication of the story.
MIDVALE — An officer-involved shooting early Sunday between a shotgun-wielding man who had gotten out of jail just two days earlier and a Unified police officer ended with one arrest and only a minor injury.
Police say Sergio Garcia, Jr., 20, got out of a vehicle that had just been stopped by a Unified police officer, "rack(ed) a shotgun that was loaded" and brandished it "at the officer," according to Unified police.
The officer took action by firing multiple rounds at the suspect. Different witnesses heard between six to tens shots.
Following the shooting, Garcia was found hiding a short distance away and arrested for investigation of aggravated assault, resisting an officer, fleeing, illegally having a concealed weapon and being a restricted person in possession of a firearm.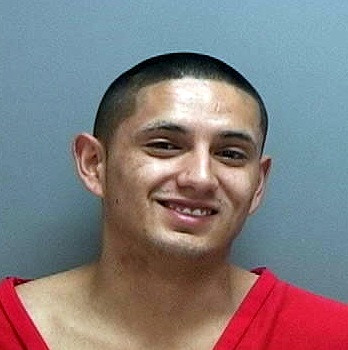 The incident began about 8:20 p.m. on Saturday when Garcia, Jr. got into an argument with family members, said Unified Police Lt. Justin Hoyal. He left after grabbing a shotgun, Hoyal said. Detectives were still investigating Sunday who owned the weapon. The family, who lives near 7950 South, called police.
But Marlet Garcia, Sergio's sister, said she called police out of fear and not because of a domestic violence incident. She knew her brother had been in trouble with the law before and had a history of being aggressive. So when he left with a shotgun, she wanted to notify authorities.
"That's pretty much why I called," she said. "He's always been like a trouble-maker, giving my parents a hard time."
Even though Marlet Garcia later heard the gunshots near her apartment, it wasn't until after the sun came up that she received a text from a friend telling her what had happened and that her brother had been arrested.
Garcia said her brother left her apartment that night with her cousin and her cousin's girlfriend and took her aunt's car.
Just before 2 a.m., a Unified Police attempted to pull Garcia's car over near the East Manor Apartments, unaware that Garcia was inside, Hoyal said.
Lark Anderson says she was in her apartment and was up getting a drink when she heard gunshots. She said an officer was trying to get a vehicle to stop in the apartment complex's parking lot. The vehicle circled around, and by the time it came to stop, it was nose-to-nose with the officer's vehicle, she said.
"The officer shot four times at the vehicle while it was moving, it stopped. He said, 'Get out of the car' four times, nothing happened, the officer shot twice," she said.
When Garcia exited the passenger side of the car, he was holding a sawed-off shotgun, according to a Salt Lake County Jail report. That caused the officer to open fire again, Anderson said.
---
He's always been like a trouble-maker, giving my parents a hard time.
–Marlet Garcia, Sergio Garcia's sister
---
The officer was still being interviewed Sunday about his exact movements, but Hoyal said he believed the officer was likely moving and shooting at the same time. He did not know how far away the officer was from Garcia when he fired. Garcia did not fire his shotgun, Hoyal said.
After the confrontation, Garcia put the shotgun back in his vehicle and ran away from the scene, he said.
The second man in the vehicle surrendered without incident. He was questioned and later released by investigators.
Unified police surrounded the area, and about 45 minutes later, Garcia was found by a police K9 hiding next to a garage near 8050 S. Allen St. (600 West). Garcia was "non-compliant" with the commands of the officers, Hoyal said.
"Commands were given to Sergio to show his hands and when he refused he was bitten by a police K9," according to a Salt Lake County Jail report. Garcia was treated for a dog bite on his arm at a local hospital before being booked into jail.
According to Utah State Court records, Garcia bailed out of jail on Thursday after being charged last week with two counts of drug distribution, both second-degree felonies, and possession of drug paraphernalia, a class B misdemeanor. When Garcia was arrested on March 5, officers recovered 35 balloons filled with cocaine and 26 filled with heroin and $956 in cash in his pocket.
In 2012, Garcia was arrested in Salt Lake County and extradited to Albuquerque, New Mexico, where he was wanted by the Bernalillo County Sheriff's Office on a probation violation.
Contributing: Sandra Yi
×
Photos
Related Stories