OREM — Police are looking to find a man they say has been counterfeiting $20 bills and using them to scam businesses into giving him real cash over the last several weeks.
Police say the man is passing the fake money at big box retailers all along the Wasatch Front, including in Tooele, South Jordan, West Jordan, Taylorsville, Riverdale, Centerville and Orem. His scheme has cost the stores thousands of dollars.
The counterfeiting spree started at a Target store in Orem on Jan. 23. The man actually returned to the same store on Feb. 13 and again passed phony bills. 
Police say the same man hit a store in Riverdale on Jan. 25. There he gave the clerk 10 fake $20 bills to buy a digital camera. He has used fake money at stores as recently as late last week.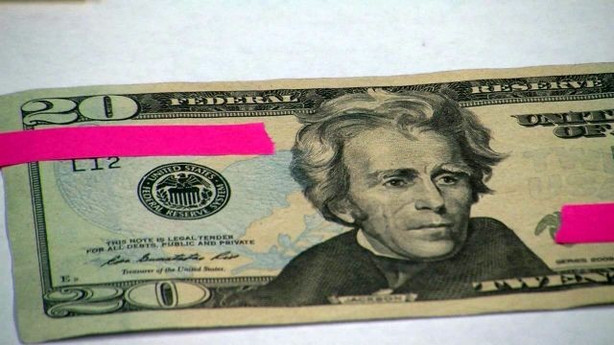 Orem Police detectives say the counterfeit $20 bills may look real from a distance, but they are actually a poor fake bill. It looks like it has a security strip, but it doesn't.
They are duplicates likely copied on a home printer and then the front and back glued together to look like a real bill.
"He is always passing 20s," said Sgt. Craig Martinez with Orem Police. "They all have the same serial number, but they are not really that good. But they are good enough he has hit at least five different stores so far."
In both incidents at Target, the man bought a large ticket item like a TV using the fake money, then came back into the store minutes later to return the item and get cash back.
The man has apparently been choosing apparel to make himself fit right in, depending on where he is using the bills — BYU athletic wear in Utah County and University of Utah gear in Salt Lake County.
Help catch the allege counterfeiter

Anyone with information on the identity of the man in surveillance photos or on the alleged counterfeiting should contact Orem police at 801-229-7070.
"He is all dressed head to toe in BYU gear; he's got a BYU jacket and BYU baseball cap on," Martinez said.
In all alleged incidents, the man is driving this grey Ford pickup truck and intentionally trying to avoid getting caught.
"When he pulled into the parking lot, he pulled off the license plates of the truck. We actually have him on video doing that," Martinez said.
The license plate, Y006EL, is from a vehicle that was sold.
Not only are local police looking for the counterfeiter, the U.S. Secret Service has also joined the investigation.
Police asking for the public's help in finding and identifying the man. Anyone with information can call Orem police at 801-229-7070.
×
Photos
Related Stories