This archived news story is available only for your personal, non-commercial use. Information in the story may be outdated or superseded by additional information. Reading or replaying the story in its archived form does not constitute a republication of the story.
SALT LAKE CITY — John Telford joined the Marines soon after he graduated from Olympus High School.
"There isn't a day goes by that I don't think of him," said his mother, Alice.
Telford's name is on the Vietnam Veterans Memorial Wall in Washington, D.C., because he was killed near the North Vietnamese border on Aug. 17, 1967.
He ended up on reconnaissance missions because he loved to work with radios, Alice Telford said.
"They would have to sneak up, locate the enemy, then radio to the ships where to drop the bombs," she said.
On Wednesday, Alice Telford gave a photograph of her son to Rep. Jim Matheson, D-Utah, to be included as part of a new exhibit in an education center to be built at the memorial. She's proud of her son's service and said she likes the idea that his picture will be included with his personal story.
"They really weren't recognized for what they did for our country," Alice Telford said.
The names of 364 Utahns are etched in the wall of the memorial. Jan Scruggs, the founder and president of the memorial, came to Utah to ask for help to broaden that history. The group wants photographs of all of those killed in Vietnam.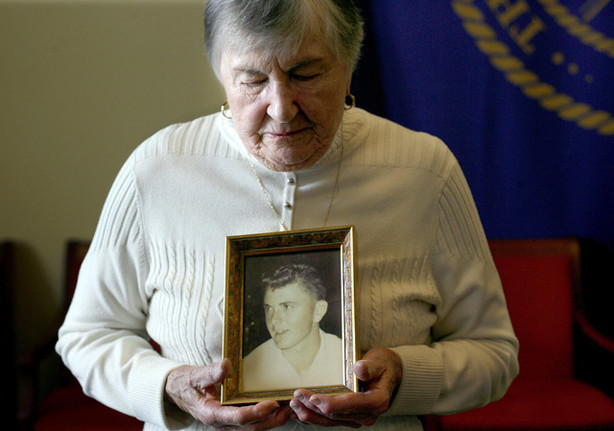 The memorial leadership in Washington believes that every story starts with a face, and they want to preserve those stories in the new education center.
"This is something that has to be done for the country," Scruggs said.
Faces Never Forgotten is a nationwide campaign to gather to photographs of every American killed in the Vietnam War.
"This is going to remind people of the connection we have, and what we owe those past and present who have served the country," Scruggs said.
The memorial has photographs of 157 fallen Utahns but still needs to find 207. Officials are hoping families can find those photos and share them for the exhibit.
"Names and numbers are one thing," said Terry Schow, executive director of the Utah Department of Veterans Affairs. "But when you put a picture with it, a visual image is more powerful than a name."
Since the dedication of The Wall in 1982, the Vietnam Veterans Memorial Fund has tried to portray the interwoven stories of the names inscribed on the memorial, Scruggs said. This part of the project has been two decades in planning.
Scruggs said the education center will become the centerpiece in America's effort to share the values of courage, honor and sacrifice as part of the nation's military heritage.
---
Names and numbers are one thing. But when you put a picture with it, a visual image is more powerful than a name.
–Terry Schow, Utah VA
---
"The photographs will be on the birthdays of the casualties," he said. "They'll be shown all day in different formats. Every hour, on the hour, we'll show the photographs of the guys from Iraq and Afghanistan."
The Vietnam Veterans Memorial Fund also needs help from families to find photos for 289 members of The Church of Jesus Christ of Latter-day Saints killed in action. Schow hopes those families with connections to the war will be eager to help with the project.
"They live with that loss every day," said Schow, a Vietnam War veteran. "To many, they are just names on a wall, but to these families that lived with them, it's a life lost. And who knows what they might have become?"
Officials hope to have most of the photographs uploaded and collected by May 18.
To see if your loved one's photo is needed, Click Here. For information on how to submit a photo, visit http://www.buildthecenter.vvmf.org/pages/call-for-photos, or call 202-393-0090.
×
Photos
Related Links