Estimated read time: 2-3 minutes
This archived news story is available only for your personal, non-commercial use. Information in the story may be outdated or superseded by additional information. Reading or replaying the story in its archived form does not constitute a republication of the story.
SALT LAKE CITY — Five years of audits released Tuesday by the Office of the Utah State Auditor show a pattern of serious errors made by the Department of Workforce Services in multiple areas, including several areas where mistakes had repeatedly been made despite the department committing to fixing them by the next year.
The 2012 audit of the department showed 16 areas of weakness, deficiency or noncompliance within the various programs of the DWS. Of those, 11 were repeat findings that the department had previously been made aware of.
"I think our concern is where you see year after year after year, you have high error rates — I think that causes policy makers concern," said state auditor John Dougall.
Inadequate internal controls over financial reporting were found in 2008, 2011 and 2012, according to the reports. The auditor's office stressed that the report "was not designed to identify all deficiencies," so "there can be no assurance that all such deficiencies have been identified." The office did identify major problem areas, though, and recommended that DWS strengthen its financial reporting to conform with generally accepted accounting principles.
In an included response to the finding, the DWS said it agrees with the finding and will work with personnel to ensure there is an understanding of the requirements for accurately preparing financial information.
Significant errors were found in the Children's Health Insurance Program, or CHIP, for all five years released. The average error rate was approximately 25 percent. In 2012, 20 percent of cases tested had some kind of error, and a quarter of those involved ineligible individuals being approved for the program. Another 16.7 percent of cases were ineligible for CHIP, but eligible for Medicaid.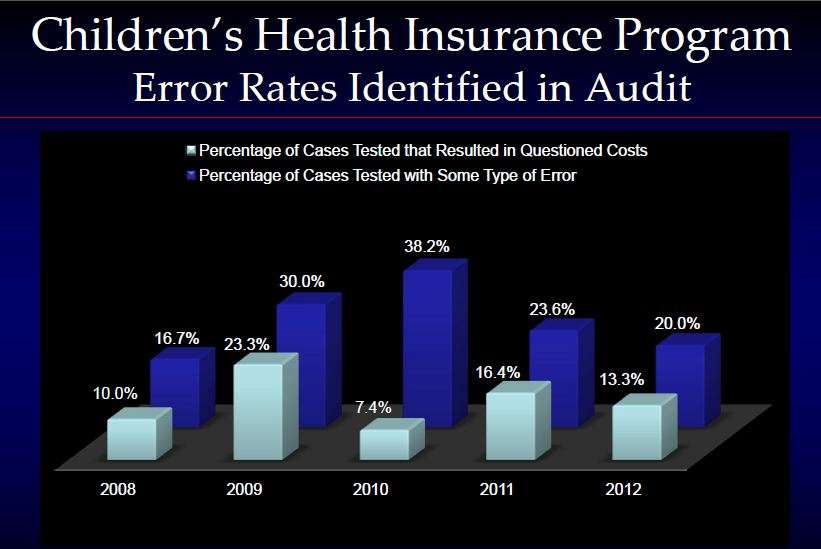 Compliance with the Workforce Investment Act was a second area of major concern for the auditor's office, and has been for at least the past five years.
"When we looked at the Workforce Investment Act, we found an error rate of upwards of 60 percent for the last four years, which causes us concern," Dougall said.
Errors in Medicaid were reported over all five years, falling from a 2008 high of 26.7 percent of cases to a low in 2012 of 3.3 percent of cases. There were no projected questioned costs associated with the errors in 2012, down from a 2009 high of more than $9 million.
Other government programs in which there were found deficiencies in multiple years include the Child Care and Development Fund, Temporary Assistance for Needy Families and the Low-Income Home Energy Assistance Program. In the most recent audit, the DWS committed to making certain adjustments by Nov. 2012, and the rest by June 30.
DWS officials were not immediately available for comment.
Video contribution: Jennifer Stagg
×
Related links
Related stories
Most recent Utah stories