OGDEN — A jury found two men charged in the death of a swimmer killed after being struck by a boat at Pineview Reservoir guilty on all counts Thursday.
After two hours of deliberation, the jury found Colton Raines, 23, and Robert Boyer, 30, guilty of the charges they were facing in connection with the Aug. 21, 2011, death of University of Utah researcher Esther Fujimoto, 49.
Raines was convicted on charges of reckless endangerment and obstruction of justice, both class A misdemeanors, as well as failure to render aid, a class B misdemeanor.
Boyer was convicted on a single count of obstruction of justice, a class A misdemeanor.
It is believed Raines was driving the boat after a day of boating and drinking at the reservoir when he swerved after seeing a swimmer, according to court testimony. Skyler Shepherd, who was was convicted in December on three misdemeanor charges, said he then took over the helm and returned to ask the swimmer how she was doing.
Fujimoto had been swimming with her sister near the Spring Creek area of Pineview Reservoir. Shepherd said Fujimoto told him she was OK and appeared angry, prompting Shepherd, Raines and Boyer, a passenger on the boat, to leave.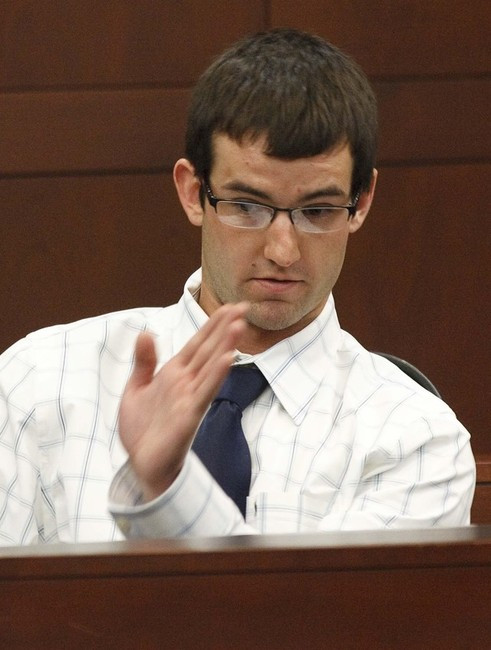 Earlier in the day Thursday, Boyer and Raines took the stand in their own defense. In a case similar to the one against Shepherd, both said they were trying to do the right thing and what anyone else would have done.
Boyer and Raines said they never heard a scream on the lake that day, and never felt an impact between the boat and Fujimoto. They said after talking to the swimmer, they were both shaken from what they believed was a near miss and did not realize they could have been involved in her death until they saw it in the news.
They said Fujimoto appeared to be treading water, and as Shepherd asked if the woman was OK, she yelled out an agitated "yes" and turned around.
Paramedics testified as experts that Fujimoto could have been in shock enough not to even realize she had been injured.
Boyer testified the boat would prove whether the men were involved or not: Forensics found no trace of blood or tissue on the boat or in the motor.
Fujimoto's brother, Bryan Fujimoto, said his family remains convinced his sister was left to die.
"It's my opinion that all three are as guilty … one as the other. There is no difference," he said. "They did not help her. All three could have, should have, and that's what this trial is about."
He said the manner in which his sister died required them to go through these proceedings.
"None of this is gonna bring our sister back, and it's just a great amount of sadness for all parties involved," he said. These proceedings won't bring her back. We miss her. We miss her dearly."
Contributing: Stephanie Grimes
×
Photos
Related Stories