Estimated read time: 2-3 minutes
This archived news story is available only for your personal, non-commercial use. Information in the story may be outdated or superseded by additional information. Reading or replaying the story in its archived form does not constitute a republication of the story.
John Hollenhorst reportingThis snowy weekend brought a protest and a petition drive by angry ATV riders.
They're upset about a ban on their machines on certain trails in the Wasatch and Uinta Mountains. It's the latest twist in the growing battle over off-road vehicles.
We're all familiar with ATVs on sand, dirt and rocks. Their use is exploding across the West, leading to clashes with environmentalists.
The latest twist involves ATVs on snow. In American Fork Canyon, trails used by snowmobiles and skiers have now been placed off limits to ATVs by the Forest Service, sparking a petition drive by an ATV club.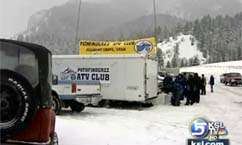 ATV rider Kyle Carlisle said, "What's unfair is they've changed the over-the-snow designation. It used to read that low-pressure tires were considered a snowmobile."
Another ATV rider, Larry Walker, added, "The [ATV riders] and the motorcycle people are supplying most of the money for the grooming of the trails. But they're shutting us out and saying, 'You can't use it.'"
Ned Fox, another ATV rider, told us, "[An] ATV with a soft tire doesn't do any more damage than the track on your snowmobile."
But some non-motorized recreationists say there ought to be some trails where ATVs, and maybe snowmobiles too, are banned.
Stephen Adolphson is a backcountry snowshoer. "I come up here to get away from everything, just have the peace of the mountains," he said. "And then to have some ATVs and snowmobiles come racing by, it's kind of distracting."
Ruth Adolphson is a snowshoer and biology teacher. "I see a lot of use off of trails, which worries me," she said, "and I have to worry about loss of plant species, loss of animal habitat, and just the pollution that is put out from them."
But one ATV rider told us his machine gets bogged down if it leaves the snowmobile trail, so he doesn't see the logic of banning one but not the other.
We've been unable to reach the Forest Service for comment.
×
Most recent Utah stories