Estimated read time: 10-11 minutes
This archived news story is available only for your personal, non-commercial use. Information in the story may be outdated or superseded by additional information. Reading or replaying the story in its archived form does not constitute a republication of the story.
Lori Prichard reporting
Produced by Linda WilliamsSALT LAKE CITY -- Thousands of Utahns have been fighting for months -- and in many cases years -- to get back millions of dollars that rightfully belongs to them.
The courts have issued hundreds of thousands of judgments ordering people to pay back their debts. However, during a year-long investigation, KSL 5 News uncovered a system that does little to force the debtor to pay and offers no guarantee of justice.
Judgments
"The judge said, 'Yep.' I mean, it was clear: 'Here's the note. He didn't pay you. OK, he owes you the money,'" says Regan Fackrell, a Salt Lake County resident awarded a judgment for $100,000 in 2009.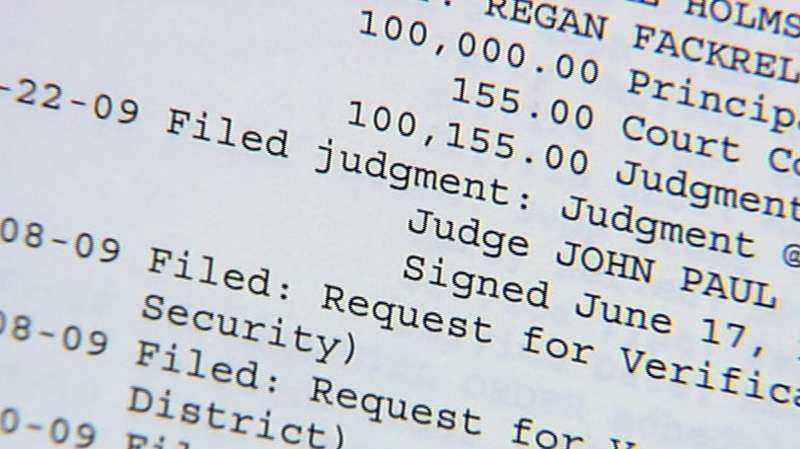 "I was awarded a judgment of several thousand dollars," says Steve Short, a local business owner. "I was elated."
Like thousands of Utahns, Fackrell and Short won their cases and received judgments from the court. Judgments are awarded at the end of a civil court or small claims case. They order people who owe money to pay that money back; but more often than not they don't.
"It's been two years. I haven't seen a dime," Short says.
"I will never get my money back," Fackrell says.
"It's just a piece of paper," says Brenda Simko, a Utah County resident who is familiar with the collections process. "It doesn't have any power. It doesn't give me back the money that I am out."
The Administrative Office of the Courts, attorneys and professional collections agents say they've seen an increase in the number of people obtaining judgments over the past two years -- largely due to the bad economy. At the same time, they've seen an increase in the number of people who are unable or unwilling to pay what they owe.
"People have started to learn that it's OK if they don't pay their bills," says David Saxton, owner of Salt Lake collections firm North American Recovery (NAR).
Saxton says his clients are suffering as a result of bad debt. He says in the past, unpaid debt accounted for 3 percent to 8 percent of a company's overall business. Now, debt accounts for 18 percent to 20 percent of his clients' business.
"It's affecting clients," Saxton says. "It's affecting their cash flow in a seriously negative way."
How many pay?
With so many Utahns seeking justice, KSL set out to measure the effectiveness of the system. Over the course of a year, we examined more than 5,000 civil court and small claims cases to see how many people actually got paid after the court said they won. We found an overwhelming majority of the people are still waiting for their money.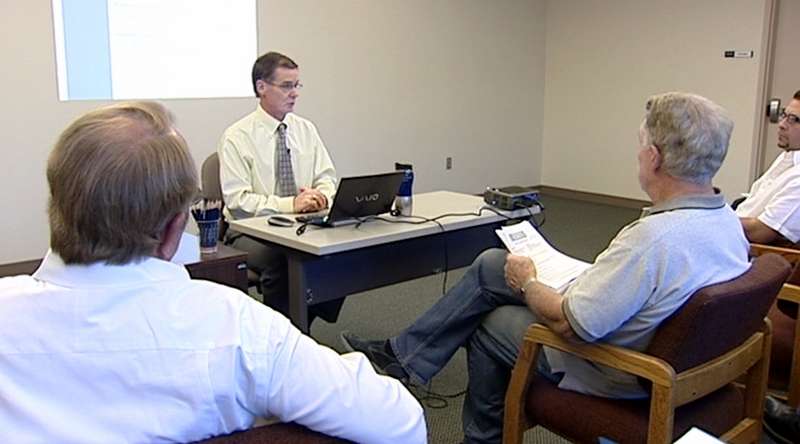 KSL reviewed 5,143 cases from seven district courts, big and small. Of those cases, 14 percent, or 741 judgments, were either dismissed, withdrawn or set aside.
That left 4,402 judgments still open for collections. Seventy-nine percent of those cases remain unsatisfied with the winners still waiting for more than $31.6 million. Compare that to just 21 percent, or $2.25 million, that have been paid in full.
"There are a good number of judgments that remain unpaid," says Tim Shea, staff attorney for the Administrative Office of the Courts. "It's largely because the most that the court can offer the creditor is a process."
The process
The collections process begins after the judgment is awarded. However, it only begins if the person who won the judgment -- the creditor -- chooses to go after his or her money.
"The creditor has to take steps to protect their interests," Shea says. "The court, again, offers tools to help do that but can't do it on their behalf."
Those tools include:
Writs of garnishment
Writs of execution
Supplemental orders
Property liens
[CLICK HERE for detailed information on these tools]
On your own
Utah County residents and landlords Brenda and Dan Simko know how difficult the collection process can be. For the past 20 years, they've spent hundreds of hours chasing down money from tenants who don't pay their rent.
"It's frustrating because you feel like you're really on your own," Brenda Simko says.
"You can get a judgment, but how are you going to collect?" Dan Simko says.
Like a growing number of Utahns, the Simkos have chosen to go through the legal process on their own without the help of an attorney.
Brenda is a stay-at-home mother of seven but spends her free time teaching herself the legal process. She surfs the court's website, translates the legalese into English and takes the process step-by-step.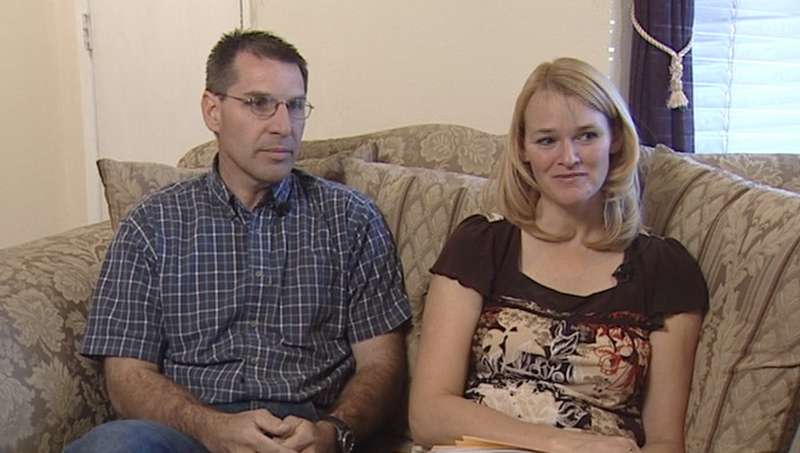 The Simkos say they've had some success collecting because of Brenda's perseverance and attention to detail and deadlines. They say they probably wouldn't have had much luck if she worked outside the home.
"If I went to another place of employment, the courthouse is only open during the same hours that I would be at work. It would be really, really tough," Brenda Simko says.
And expensive; the creditor must pay all costs up front, including the filing paperwork, to have legal notices served, and to pay attorney's fees.
Professional collections agent David Saxton says it's gotten so bad his firm, NAR, doesn't even pursue smaller amounts of money anymore because the chances of collecting are too small; the costs of collecting too high.
"By the time you get to a garnishment you can easily have spent anywhere from $200 to $500," Saxton says.
NAR has spent 18 years collecting money for clients. It has its own legal team that goes after debt, and every month its lawyers obtain roughly 600 judgments. Saxton says without them it would be nearly impossible to collect.
"It would be overwhelming," he says. "If somebody doesn't know how to do that, doesn't know all the hoops they have to jump through, I cannot imagine them being able to have any success collecting a judgment at all."
Attorney Richard Terry agrees. He represents banks, businesses and everyday people during the judgment and collection process. He says the average person could figure out how to do it on their own, but it would be very difficult. Still, he admits even if someone does hire an attorney, they may never see results.
"It's certainly easier for us because we know exactly how to do it. We know all the tricks. We know how to get around a lot of the tricks, but you still have that same fundamental problem," Terry says. "The old saying goes, 'You can't squeeze blood out of a turnip.' And so if there's no blood there, even the attorney can't get it."
No money, no resolution
Debtors elude payment in a number of ways. Oftentimes they don't have a job, or quit their job so their wages can't be garnished. If they own property of any kind, they'll transfer that property into someone else's name so it can't be seized or sold to pay off their debt. They'll also skip, meaning they disappear and do what they can to keep from being found.
However, the most common way they avoid debt is by filing bankruptcy.
"If they file bankruptcy then they can eventually obtain a discharge, meaning they don't have to pay the debt at all. It's gone," Terry says.
Fackrell understands all too well how a bankruptcy can leave a creditor with no recourse. Last year, he told KSL he was worried the person who owed him money would use that tool to get out of paying his $100,000 judgment.
"A judgment would be wiped away with one bankruptcy," Fackrell explained.
Sure enough, a year later, that person did file bankruptcy. Now Fackrell's only option is to start the process all over again in federal bankruptcy court because once someone files bankruptcy, all state collection efforts stop.
Help with no enforcement
Court representative Tim Shea agrees the process offered by the court can be tough. The law that allows you to win a judgment stops short of providing any muscle you might need to get paid on it.
The reason? "The mere fact of non-payment is not a criminal act," Shea says.
No crime means an officer won't come to make an arrest, no jail time, and no real penalty to enforce the debtor to make payment.
Shea says the state isn't going to spend more money or hire more people to help chase down unpaid debts. It would cost the taxpayers hundreds of thousands of dollars, if not more, and by acting as the collector, Shea says the court would be unable to maintain its neutrality in the case.
"The process that we offer from the initial filing of the complaint to the last satisfaction of judgment has to be a fair process in which both parties are treated equally," he says. "It's not always clear the creditor is in the right, and so the court is required to resolve those disputes."
Shea says while the court can't collect on behalf of the creditors, it does offer them some help: a book, a DVD and a class on how to collect on a judgment.
Shea teaches the class once a month. He says it was originally the tail end of a class on the small claims process, but it took up so much time they had to create a separate course for it.
But KSL found even when creditors attend the class, they find the process discouraging.
"It'd be easier to employ, who is it? 'Dog the Bounty Hunter?'" remarked one creditor, causing the classroom to erupt in laughter.
Credit impact
If debtors can elude payment and the courts provide no real method of enforcing payment, what's the worst that can happen to someone who doesn't ante up? A ding on their credit.
Representatives from credit bureaus Experian, Equifax and Trans Union tell KSL the agencies constantly pull court records in search of judgments. The judgment then appears on a debtor's credit reports as a derogatory mark, where it remains for seven years even if the debt is paid.
But Saxton says the threat of bad credit doesn't really matter anymore.
"They can still go out and get a loan even if they have bad credit," he says. "So people just are learning they don't have to pay."
Are judgments worth it?
No doubt, the odds are stacked high against people who fight for their money, so why do so many bother? It depends on who you ask.
"'Cause I can't afford to house the world," Brenda Simko says.
"It's about principle," Short says. "It's all about being vindicated and asserting that I was right about what I was trying to collect."
Regardless of the motivation, are judgments worth it in the end? That, too, depends on who you ask.
"Sometimes it's just best to walk away. We'll have to see," says Teresa Giles, a Utah County resident just starting the collection process on a $40,000 judgment.
"You need to be able to have a way to collect your money," Dan Simko says. "There has to be some accountability."
"I believe they are definitely worth it because people, otherwise, simply are not enforcing their rights," Shea says.
"Will the judgment do anything for me?" Fackrell asls, as he throws his hands in the air out of frustration.
Bottom line
Bottom line: Judgments are difficult to collect and there's very little anyone can do to force people to pay. A judgment expires after eight years; but if you feel it's worth it, you can pay more money and have the judgment renewed.
Experts suggest creditors do everything they can on their own -- follow court deadlines, file the proper paperwork and make sure everything is correct. If after all that they still can't get answers, they recommend creditors hire a professional to help them along. Even then, there are still no guarantees.
E-mail: iteam@ksl.com
×
Related links
Most recent Utah stories