Estimated read time: 4-5 minutes
This archived news story is available only for your personal, non-commercial use. Information in the story may be outdated or superseded by additional information. Reading or replaying the story in its archived form does not constitute a republication of the story.
ST. GEORGE, Utah and Catawba County, N.C. -- A nationwide manhunt for a suspected murderer ended in Southern Utah late Tuesday night, when investigators believe he killed himself and his girlfriend.
The search for 38-year-old Chiew Chang Saebang began on the East Coast last Thursday. Saevang was wanted for killing three women and a young boy inside a home in Conover, N.C.
"It was not anything random at all. The guy knew exactly where he was going. He knew what he was going there for. He did what he did and then left," said Sheriff David Huffman, of Catawba County, N.C.
There's evidence indicating Saevang was involved in the murders. A specific motive is still not known, although the local sheriff believes the husband and father of the victims, who was not home at the time, was getting opium shipments from Thailand.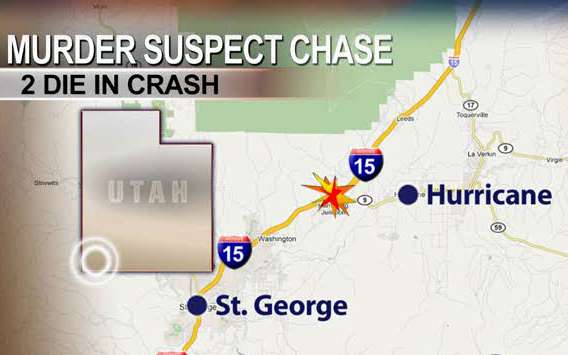 Four days later: a break in the search for Saevang and his girlfriend, 40-year-old Yer Yang. Investigators got a signal from his cell phone in southern Utah.
Police were alerted, and around 11 p.m., a Washington County deputy spotted the suspect's car. The suspect appeared to pull over for the police lights, only to lose control, hit another car then crash up the embankment.
"Sounds like they didn't want to take that chance of going to jail or having some kind of retaliation by somebody else," said Chief Deputy Rob Tersigni, of the Washington County Sheriff's Office.
Officers had the car surrounded at gunpoint in less than a minute, but the suspect and his girlfriend were already dead -- not from the crash, but from gunshots that police say were fired inside the car with a 9mm handgun.
"Our officers did an excellent job. They did exactly what they were trained to do. I can't commend them enough on how well they handled the situation. When you are confronted in a situation like that with murder suspects, you don't know how it is going to turn out, what is going to happen. You could have a shootout, or it could end the way it did last night," Tersigni said.
Though investigators believe the man shot his girlfriend and then killed himself, they are awaiting final autopsy results to confirm that.
Quadruple murder in North Carolina
Investigators in North Carolina learned of the deaths as they prepared arrest warrants for Saevang for murder in the North Carolina slayings and for Yang for accessory after the fact to murder. Both were also being charged with conspiracy to sell opium.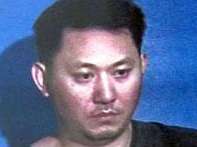 Saevang was wanted in last week's killings of Lisa Saephan and her three children -- 20-year-old Melanie, 18-year-old Pauline and 3-year-old Cody -- at their home outside of Conover, N.C. They say they each of the three victims were either shot or stabbed. The youngest victim was found dead with dry cereal in his hand.
On Wednesday, Chief Deputy Coy Reid from the Catawba County Sheriff's Office said no charges are expected against Saephan's husband, Brian Tzeo, in his family's deaths, but the investigation could lead to drug charges. "The information we have suggests the father was a drug distributor," Reid said. "He has cooperated with us. And we're not at liberty to talk about that right now. It's an ongoing investigation."
According to WCNC, investigators say Tzeo was getting opium shipments in the mail from Thailand and Saephan was cooking it. Saevang was believed to be the seller. The drugs were sold in Wisconsin. They say Yang also was involved.
WCNC reports investigators believe Saevang may have wanted to take over the operation, which may have led to the murders.
Saephan and the three children were found dead last Thursday in their home about 40 miles northwest of Charlotte. Funeral services for them are scheduled for Wednesday in North Carolina.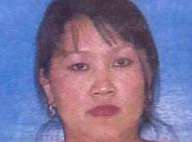 Authorities say Saeveng had a criminal history. In 2004 he was arrested for possession of controlled narcotics. He was sentenced to a federal prison for 46 months, but then got out in 2007.
They say the woman involved is an accomplice to the murder, but at this point they're unsure of her exact role in the crime.
Investigators who searched the slain family's home last week seized a clear plastic bag containing a "suspected controlled substance." They also took away cash, computers, cell phones, a knife and a pistol.
Authorities found the victims after a friend of Pauline's called 911 on Thursday morning, screaming and sobbing as she told the operator Pauline had just been pulled into her home and stabbed by a man. The friend had picked up Pauline for school that morning, but they went back after the friend said she had seen a suspicious man outside the house.
Tzeo has said he and his wife had separated and that he had an affair but they were still living together and trying to work things out.
Investigators in North Carolina say they are still in the early stages of the investigation and that they will be sending agents out to Utah to work on the crash investigation.
------
Story complied with contributions from Sam Penrod, Shara Park, Andrew Adams and The Associated Press.
(Copyright 2008 Bonneville International Corporation. All rights reserved. This material may not be published, broadcast, rewritten, or distributed. AP contributed to this report.)
×
Photos
Most recent News stories