Estimated read time: 3-4 minutes
This archived news story is available only for your personal, non-commercial use. Information in the story may be outdated or superseded by additional information. Reading or replaying the story in its archived form does not constitute a republication of the story.
SALT LAKE CITY — Over the past couple of years, there has been a lot of attention on former NFL players and the effects of concussions — injuries that are always serious, and sometimes deadly.
That attention has since trickled down to the beginning stages of the game: pee-wee and high school football. When it comes to team sports in Utah, football is the biggest cause of traumatic brain injury.
From kick-off to the final play, there is something about football that just draws you in. There's the drama, the speed, the athletics; and for many there is a huge thrill in watching the explosive, and often violent, hits.
But while the sport can be super fun for the spectator, it's a little less fun for the guy getting his bell rung.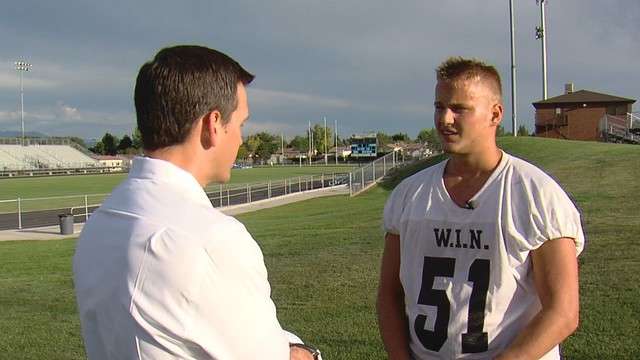 West Jordan High School football player Dallas Schaefer has been playing the game since he was 8 years old. While he's had a handful of injuries over the years, but it wasn't until last fall at football practice that he suffered his first concussion.
"My head got hit between someone's knee and another guys helmet," Schaefer recalled. "(It) shook my head really fast, and shook my brain up really good."
"I just kind of felt fuzzy," he continued. "At first I was seeing little sparkles in the air; my hand-eye coordination was a little off."
A team trainer yanked Schaffer from the game, but a doctor cleared him to play just six days later.
Was it too soon?
"There have been cases reported where after a single concussion, one of the risk factors was actually suicide," said Dr. Anne Russo, a clinical neuropsychologist at The Orthopedic Specialty Hospital (TOSH) in Murray.
In her line of work, Russo deals quite a bit with sports-related head injuries. Physically, mentally, and emotionally, she says football is great — but there is a risk.
"It's a dangerous, dangerous sport," Russo said. "We cannot say it isn't."
---
The (adolescent) brain is incredibly active, so any disruption to that can be especially damaging.
–Dr. Anne Russo, clinical neuropsychologist
---
That risk is inherent to the game, especially for kids and teens. "The adolescent brain, in particular, it's one of the most important times in our development," Russo explained. "The brain is incredibly active, so any disruption to that can be especially damaging."
A good blow to the head will shake the brain and slam it into the skull, damaging nerves and brain tissue. In the short term it's bad; in the long term, maybe worse.
But the recent spotlight on sports-related head injuries doesn't seem to be holding anyone back. In fact, in the Salt Lake Valley Ute Conference, 9,000 kids are enrolled to play pee-wee football this season. That's up 15 percent from last year, and 20 percent over the last five years.
Some mothers of pee-wee players call the risks scary, and many say they're very protective of their children. So why would a scared mom, a protective mom, even allow their child to suit up?
One reason: they believe all the attention given to concussions has actually led to greater safety measures. Teaching proper techniques on the field and training classes for coaches have been established to teach them how to identify a concussion from the sideline, and to get the player out of the game immediately.
Related:
"The helmets are not going to prevent it. What's going to prevent a concussion is technique," said Mike Morgan, head football coach at West Jordan High School.
In fact, Morgan's statement is one coaches and doctors will often agree on. Tests are done and designs are improved, but right now there is no such thing as a "concussion proof" helmet. [Click on the extra video clip above to learn more about football helmet safety]
The CDC estimates nearly 2 million brain injuries are suffered by teenage football players every year, with another report showing a big hit is equivalent to the impact of a 25 mph car accident.
On top of that, several studies reveal kids with multiple concussions, even if considered mild, experience severe headaches, memory loss, lower grade point averages, and become lethargic and often very irritable — and those are just the short-term effects.
Email: mheadrick@ksl.com
×
Photos
Related stories
Most recent Utah stories