Estimated read time: 3-4 minutes
This archived news story is available only for your personal, non-commercial use. Information in the story may be outdated or superseded by additional information. Reading or replaying the story in its archived form does not constitute a republication of the story.
MURRAY — When A.J. and Jenna Rooks were married in 2010, the dreams of their future were forever. But only 11 months into marriage, those dreams were dashed.
A.J. Rooks died at the age of 27 after suffering a sudden heart attack. His widow shared her story in hopes of helping others avoid the tragedy she has lived through.
Jenna Rooks described her husband as healthy, athletic and a person who loved every part of the outdoors. A huge majority of their lives together revolved around living well. A.J. would even bring home fitness articles for them to read so they could be at the top of their game.
"We were pretty focused on our health and our fitness, and the longevity of our lives," Jenna said.
Doctors treated A.J. for a variety of sports injuries throughout his life, but a heart problem was the furthest thing from Jenna's and A.J.'s minds.
The night A.J. died, the couple went out on a date to a body building expo in Murray. Everything seemed fine until A.J. sat down next to Jenna and told her he felt faint. She asked if he needed something to eat, and he replied with, "I think I'm having a heart attack."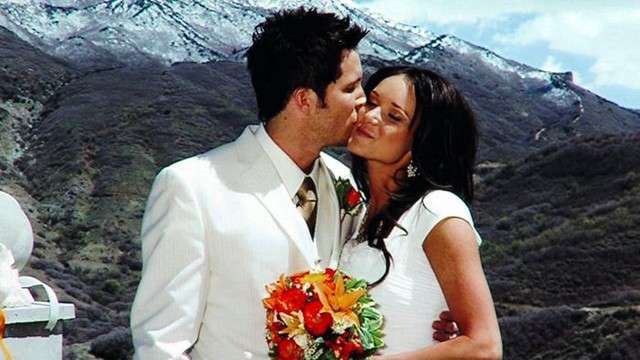 "He literally dropped dead in my arms," Jenna said.
Emergency responders, then doctors, tried CPR on A.J. for nearly two hours but could not bring him back. Doctors later told Jenna that A.J. had a heart defect his entire life — one no one ever knew about it — and that night he did in fact have a heart attack.
"His main artery was 80 percent clogged — go figure," Jenna said. "Looking at A.J., I never would have dreamed that that would happen, that (it) would be my reality with him."
It's a reality Jenna suddenly had to cope with. Finding out A.J. had a heart defect, she said, only made it worse.
"I beat myself up for months, asking myself, if only, if only I would have known," Jenna said.
A.J.'s passing prompted Jenna and her family to take stronger action toward preventing heart disease.
"We all went and had EKGs," Jenna said. "We wanted to know what was going on, on the inside, that's not physically manifested."
Doctors at Intermountain Medical Center think that is a good idea.
"You could have heart disease that we're talking about, and it could be lurking there silently for 10, 20 years," said Dr. Kent Meredith, cardiologist at the Intermountain Medical Center Heart Institute.
Jenna is now sharing her experience, hoping it will prompt others to take action.
"People think, 'Oh, if I just stay off the potato chips, or if I run a mile a day, I'm good.' There's a lot more to it," she said.
On Saturday, Feb. 9, Intermountain Medical Center will host a Healthy Heart Fair. It will include informational workshops, healthy cooking classes and free blood and EKG tests.
"Not only is it not fair to ourselves (when we don't take advantage of medical testing), but it's not fair to our family members," Jenna said. "With medical advances in technologies, go get yourself checked out."
The Healthy Heart Fair will be held at the Intermountain Heart Institute at Intermountain Medical Center, 5300 S. State Street in Murray, from 9 a.m. to 1 p.m. For more information, call 801-507-4701 or visit intermountainhealthcare.org.
×
Photos
Related Links