Estimated read time: 4-5 minutes
This archived news story is available only for your personal, non-commercial use. Information in the story may be outdated or superseded by additional information. Reading or replaying the story in its archived form does not constitute a republication of the story.
LINDON —A business and a home are considered complete losses following a massive fire on Wednesday that may take crews a few days to completely extinguish.
The fire was reported at 4:40 a.m. and still had not been brought under control four hours later. By 10:30 a.m., equipment was brought in to knock down the rest of the structure.
Then late Wednesday afternoon, a pile of rubble was all that was left of the structure. But the fire was not completely out, according to Lindon Police Chief Cody Cullimore. He expected crews would be using heavy equipment to turn debris over and put out flames and hot spots through the end of the week. A ladder truck was used to hose down the area every 20 minutes.
Because of the damage and efforts to put out the fire, Cullimore said investigators hadn't had the chance to start looking for a possible cause.
Damage to the structures and all their contents could reach into the millions of dollars.
The fire was believed to have started in the warehouse area of The Ensign Group, 475 N. State Street. The building was formerly known as Patch's Majestic Metals, the owner of which was leasing the building to The Ensign Group.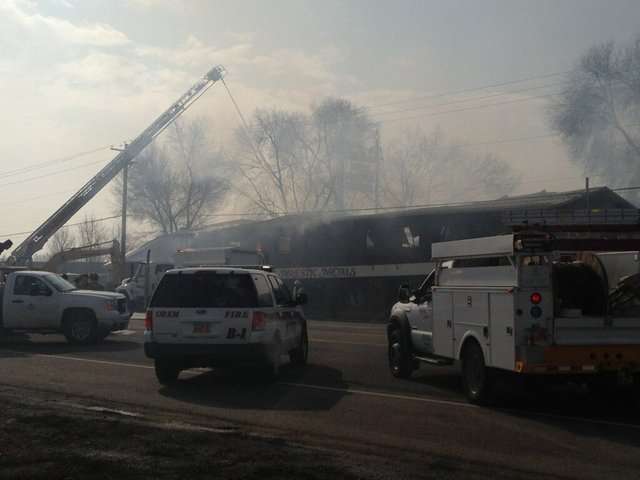 At the time of the fire, the large warehouse area was stocked full of merchandise, including furniture and apparel, Cullimore said.
"We've got 30 or 40 employees planning on being officed here, so we're just barely getting our feet wet moving into this new facility, and this is what happens," said Darin Davis, of The Ensign Group. "We're just going to push forward. That's what you do. You keep going."
"We believe it started in the back, but we've had some roof collapses," Davis said. "Probably a total loss. There's a home just to the north of it which is also a total loss. No one was injured."
The home was attached to the business and had been used as a rental property for years, he said. Melamed and her husband are the current renters.
"As far as I can see, I think everything is probably gone. Even though our building caught fire, I know a lot of the damage is probably water damage," said Marilyn Melamed, who lived in the rented home.
"Everything is gone," Melamed said. "Looks like the garage is still there, so there might be some stuff in the garage we can salvage. Hopefully we have other things in the home we can salvage."
Two children lived with the couple in the home, and Melamed's mother was visiting the family at the time of the fire.
"I can't even go anywhere. Everybody's asking me to come, but it's like, I have to be here to see what's going on," Melamed said.
A home to the north of the building was also burned. Officers were able to get the residents out of the home in time by knocking on their doors. No one was injured there either, but their home is a loss as well.
Other nearby structures also suffered smoke damage, Cullimore said. Smoke from the incident could be smelled over a wide area of Utah County.
Davis does not yet know the total cost of the loss of his property, but said for now his business will continue to operate out of its old facility in Provo.
---
We've built stuff for thousands and thousands of homes across the state and helped hundreds and hundreds of boys grow into men. It's just devastating to watch everything go up.
–Robert Patch, owner
---
Robert Patch, who owned and operated Patch's Majestic Metals out of the building for 31 years, said he was sick about the fire.
"We've built stuff for thousands and thousands of homes across the state and helped hundreds and hundreds of boys grow into men," Patch said. "It's just devastating to watch everything go up. ...makes me want to be sick right here in front of everybody."
Patch said that for him and many others, this is more than just a building.
"It's raised families and blessed lives and helped people for many generations," he said.
Patch said he has insurance, but does not plan to rebuild.
The Red Cross said it responded to the scene to assist nine residents forced from their homes.
State Street through that area in Lindon was closed Wednesday morning while crews battled the fire. The closure forced Utah Transit Authority to temporarily change one of its bus routes.
Contributing: Devon Dolan and Randall Jeppesen
×
Photos
Most recent Utah stories