This archived news story is available only for your personal, non-commercial use. Information in the story may be outdated or superseded by additional information. Reading or replaying the story in its archived form does not constitute a republication of the story.
SALT LAKE CITY — It may feel almost warm outside after weeks of temperatures in the teens and 20s, but Utah has a long way to go before the last of the snow is gone.
For all the hiking, boating and rock climbing available in the summer, there are just as many things to do in the winter in the Beehive State, even if you aren't a skier or snowboarder. Here are five:
Ice fishing
When ice forms a crust over a lake, the fish underneath get very active, according to the Division of Wildlife Resources. Waterproof boots, some fishing gear and warm clothes are all you need to take advantage of a more social form of fishing.
Drew Cushing, warm water sport fisheries coordinator for the DWR, said ice fishing is "the great equalizer" because participants can walk almost anywhere on a frozen lake — no boats or other equipment needed. With a digging bar or ice auger, you can be setting your line in no time, he said.
Some of the best ice fishing in the state is at Pineview and Deer Creek reservoirs, according to the DWR. Flaming Gorge and Strawberry reservoirs and Utah Lake are also included on the division's list of the best places for ice fishing in the state.
Hot springs
For those who prefer the heat of summer, the hot springs that dot Utah are a good bet. Ancient Greeks believed the gods had blessed certain hot springs and tidal pools to cure disease, and established special areas for healing. The belief that the hot water and steam is cleansing for the body and soul is one that still permeates cultures around the world.
Utah Outdoor Activities has information on the following hot springs: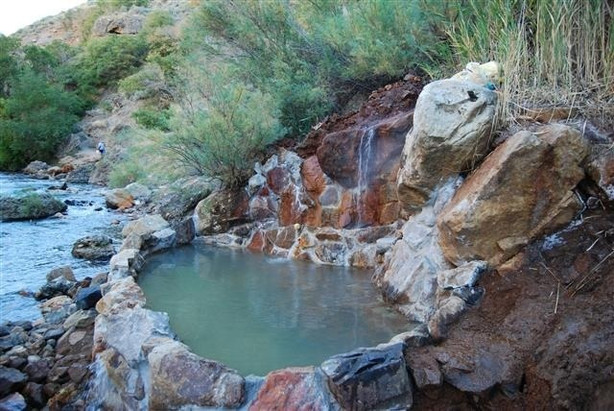 Lava Hot Springs (Idaho)
Blue Lake Wildlife Management Area
Crystal Hot Springs Honeyville Utah
The Veyo Pool
The Homestead Crater
Mystic Hot Springs
Inlet Hot Springs
Baker
Fifth Water
Meadow
Ogden Hot Springs
When deciding which hot spring to visit, stay safe. Research the maximum temperature of the spring, the wildlife in the area and whether there are laws you need to be aware of before entering the spring.
Sleigh rides
For kids, on a date or just for fun, horse-drawn sleigh rides present a novel way to witness a Utah winter without having to worry about getting your feet wet or spinning your car out.
Companies in cities that dot the Wasatch Front offer sleigh rides; there are six in Park City alone, according to the Park City Visitors Bureau.
Lake activities
Lakes aren't only for swimming and waterskiing. Frozen lakes provide unique opportunities to experience some of the best that winter has to offer.
The Utah Lake Commission suggests activities that can be done on a frozen lake:
#poll
Ice skating
Broom hockey
Photography
Wildlife observation
Enjoy the silence
Hiking
Weather watching
The commission mentions getting creative — dog sledding was on the list — and running is another viable option.
Winter hiking and snowshoeing
A few hours' drive south will take you to some favorite winter hiking places, among them, Zion National Park. Winters at Zion are mild, although some paths may be icy.
If snowshoeing is more your thing, Snowshoe Utah has detailed information about a variety of snowshoe trails along the Wasatch Front.
One of the most important things to remember while hiking and snowshoeing in the winter is that temperatures can drop dramatically as time passes, and it's important to be dressed correctly. Warm pants and a parka may seem fine as you start your hike, but temperatures at the peak can be drastically colder — and depending on the time of day, you may see a temperature drop even at lower elevations.
The Appalachian Trail Club has recommendations for those wishing to dress comfortably for a winter hike. Rick Curtis at Princeton provides a field guide to recognizing and combating hypothermia.
What are your favorite winter activities? Tell us on the comment board.
×
Related Stories