Estimated read time: 4-5 minutes
This archived news story is available only for your personal, non-commercial use. Information in the story may be outdated or superseded by additional information. Reading or replaying the story in its archived form does not constitute a republication of the story.
PROVO — Since I was a little girl, I have enjoyed going to the lake. It has so much to offer by way of swimming, water skiing, wakeboarding — and the list of fun goes on and on. Of course, all of this fun must come to an end each year, as the winter months turn the lake into ice. In my mind, it's downright dreary and quite frankly, kind of a sad reminder of what I wish I was doing.
However, just the other day, after a long, cold run, my running partner asked if I wanted to go for a run "on" Utah Lake with her the following Saturday. Assuming that my friend had just had a slight confusion in prepositions, I said, "Sure, I'd love to go for a run around the lake."
Not quite catching my use of the word, "around," she said, "Great! My husband has some screws he can put on the bottom of our shoes. Bring them by later. He can get them ready for you."
Still thinking that I was hearing things — or perhaps it was my brain still being frozen from our 10-mile run in 5-degree weather — I smiled, nodded, said goodbye, and proceeded to head home.
After my body started to thaw out a little bit, I began to process what my friend had just said. I asked my outdoor enthusiast of a husband if people actually went running on frozen lakes. He told me that his friend had actually ridden his bike on the lake just the other day.
Tips for running on the ice safely
1. Do your research. The lake should post updates on ice thickness, but if it doesn't, go and cut a section of the ice yourself. The ice should be at least 3" thick. This usually happens after days and weeks of temperatures in the below freezing range.2. Don't go alone. As is the case with all risky activities, there is safety in numbers. 3. Dress appropriately. Make sure you are covered head to toe in warm clothing and you layer on in your upper body and chest area, as well as on your extremities. A hat is a must.4. Get your shoes ice ready. Ice is slippery, so you may want to get your shoes ready for the ice by making a few adjustments. Here is a link with instructions on how to do that. It is best that you do this to an older pair of shoes; once they're ice shoes, there's no going back.5. Use a GPS or compass. As opposed to running on the road or trails, there are no marked paths on a frozen lake. A GPS or compass will ensure that you make it to your intended destination.6. Use caution. Only participate if you're comfortable with the idea, taking all necessary precautions before doing so.
Shocked at what I had just heard, I went online to check this craziness out. To my surprise, I found an article titled "Winter Wonderland: Top 10 things to do at Utah Lake when it's frozen" on UtahLake.gov.
As I scanned through the list, I realized running was No. 1 of the Top 10 things to do. The website said that the consistent below freezing temperatures Utah has been having the past few weeks have provided the perfect conditions for people to venture out on the ice.
Despite feeling a little more OK with the idea, I remained somewhat leery and wanted firsthand accounts from people I knew who had done this before. I created a quick Facebook post, asking if any of my friends had done this before. Once again, to my surprise, I had a friend who was planning to run on Utah Lake that afternoon, and she sent me a link to a website, where local runner and ultramarathon legend Davy Crockett had posted a video running on the lake just days before.
Now, I was in.
Come Saturday morning, I received a text saying the the ice was measuring at 6 inches, and that we were "golden." We headed out to Saratoga Springs, parked my car at the dock, and then drove to Provo, where we planned to run the seven miles across the lake, back toward Saratoga Springs.
Bundled up to the nines, we headed out on the ice. At first, we were a little nervous thinking that we were actually on ice, but after about a mile that nervousness went away.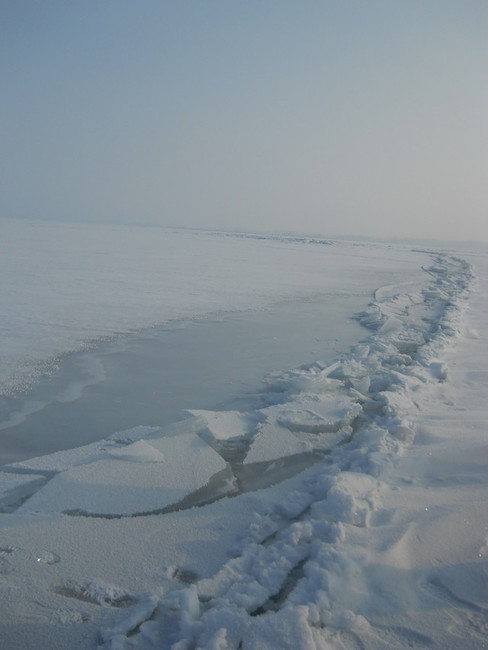 Being out in the middle of the lake, and the fact that the sky was devoid of color, everywhere we looked was completely white. Every once in a while, we would see a little crack in the ice, or a small "ice mountain," which is what they are called, that we would carefully make our way over. Other than that, it was smooth sailing — oh, I mean "smooth running."
Once we reached Saratoga Springs, we all looked at each other with an "I-don't-want-this-to-end" look. So we made the decision to turn back, and run the seven miles back to Provo. Never before would I have thought that I would run from Provo to Saratoga Springs — and back — that it would be so much fun, and most of all, that I would do it all on ice.
Such a wonderful experience that I will not soon forget.
Author's note: If this seems like an adventure you want to experience, make sure that you do your research by checking your lake's website for ice thickness and other safety information.
Arianne Brown is a graduate from SUU, mother to five young kids, and an avid runner. Contact her at ariannebrown1@gmail.com, follow her on twitter @arimom5, or check out her blogs at tattletalesofabusymom.wordpress.com or runariran.wordpress.com.
×
Photos
Related Links