SALT LAKE CITY -— Several children are being treated for minor injuries after a school bus collided with a pickup truck on a foggy road in Box Elder County.
Box Elder School District Superintendent Ron Wolff said bus No. 2201 was about two-thirds full and headed to Century Elementary when it crashed head-on into the pickup on state Route 13 near 2400 North around 8 a.m. He said speeds were relatively low.
Medical personnel treated the affected children for minor injuries. Wolff said three students were taken to the Brigham City Hospital for further examination. The drivers were not injured.
He also said the pickup did not have its lights on at the time of the crash.
Check ksl.com, KSL TV and KSL Newsradio for updates as they become available.
Concerns over road conditions delayed the start of school in two districts and several other schools Friday morning.
The following schools are on a 2-hour delay:
Weber School District
Davis School District, plus no PM kindergarten.
Legacy Preparatory Academy
NUAMES in Layton
Spectrum Academy in North Salt Lake
Maria Montessori charter school in North Ogden
Utah Schools for the Deaf and Blind -- all of its Weber, Ogden, Davis county routes. All other routes will operate as normal.
Venture Academy in Marriott-Slaterville. Morning kindergarten canceled.
Ogden, Granite, Jordan, and Canyons school districts are all operating on schedule.
Road Weather Forecast
Slick roads are reported in Davis and Weber counties and in the Salt Lake Valley Friday morning, but traffic issues are nowhere near as severe as they were Thursday when freezing rain created massive problems.
Utah Highway Patrol responded to a total of 26 weather related accidents between 9 p.m. Thursday and 3 a.m. Friday. Four of those crashes resulted in injuries.
UHP said a driver was going too fast for the conditions on northbound I-15 near 1500 South Thursday night. He lost control and his car hit three other vehicles before coming to a stop. A 20-year-old man was taken to a hospital with minor injuries. No one else was hurt.
And a man is in critical condition after a deadly head-on crash on state Route 112 in Tooele Thursday evening. State troopers said a truck crossed into oncoming traffic and slammed into a van. One man died in the accident. Investigators are trying to figure out exactly what happened.
The Utah Department of Transportation's traffic operation center has a road weather alert in effect until 10 a.m. Friday, warning of icy road conditions: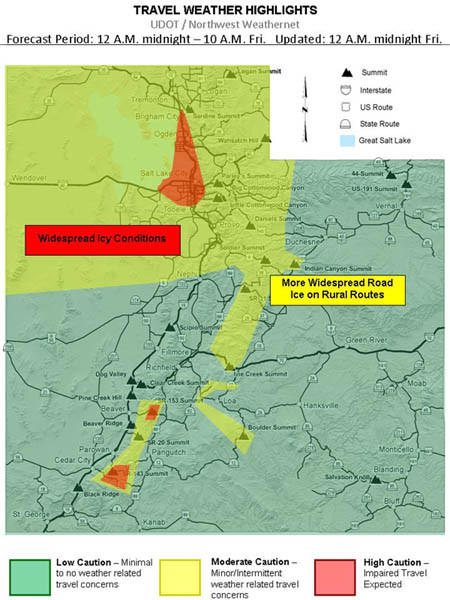 Northern Utah
Icy roads along the Wasatch Front, in Tooele, and in Cache Valley will continue through 10 A.M. Friday.
Fog will develop along the Wasatch Front and in the Mountain Valleys.
Areas of road ice and patchy road snow will continue for the following mountain routes: US-89 over Logan Summit (east of Logan), US-89 over Sardine Summit (east of Brigham City), SR-226 (to Snowbasin), SR-167 (Trappers Loop), SR-39 (east of Ogden), SR-158 (to Powder Mountain), Big and Little Cottonwood Canyons.
Central/Southern Utah
Road snow through Friday Morning will impact the following mountain routes: SR-31 (between Fairview and Huntington), SR-153 (east of Beaver), SR-143 (east of Parowan), SR-14 (east of Cedar City), SR-12 over Boulder Summit (between Torrey and Boulder).
Motorists should be prepared for patchy ice on I-70 between Green Rover and Colorado and on SR-191 between I-70 and Moab.
Get traffic updates on KSL Newsradio and check the home page of ksl.com for commute times.
Contributing: Linda Williams
×
Photos
Related Links
Related Stories