Estimated read time: 2-3 minutes
This archived news story is available only for your personal, non-commercial use. Information in the story may be outdated or superseded by additional information. Reading or replaying the story in its archived form does not constitute a republication of the story.
LEHI — Amy Chapman may be missing both her legs, but she doesn't let anything hold her back.
Chapman was born two months premature and weighed only 2 pounds. She was also born with fibular hemimelia.
"It basically means I was born without fibular bones," she said.
When Chapman was 13 months old doctors amputated both her legs just below the knee. But that didn't stop her from learning how to swim.
"She's loved to swim since she was a baby," said her mother, Leslie Chapman. "It was her idea to join the swim team."
Chapman, now 17 years old, swims for Lehi High School. She also skis, climbs and plays wheelchair basketball.
"The hardest part may be some people see it as a disability, when really it's just something different about me and something I have to deal with," Chapman said. "But really, we all have things we have to deal with."
By day she wears prosthetic legs and at swimming practice she wears special fins. In swimming events Chapman competes against able-bodied swimmers. She's earned a top-20 ranking by the International Paralympic Committee in the breaststroke and backstroke and hopes to swim in the 2016 Paralympic Games.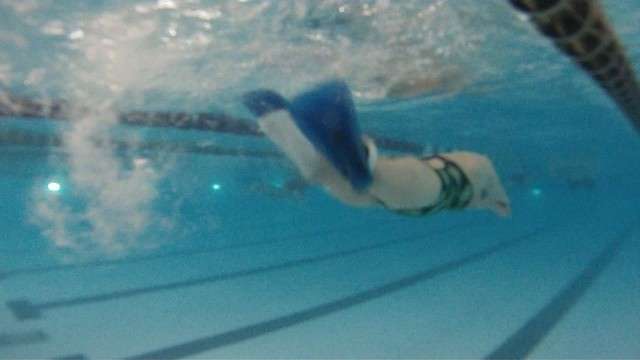 Her abilities may be more unconventional than the normal high school athlete, but by thinking and training outside the box, Chapman has found a way to overcome her disability.
"I always knew I might not be able to do the exact same things (others have) done, but I could always do what they generally do," she said. "I've always done it my way and the way I can do it."
Her family moved to Utah from Chicago last summer, and her transition to Lehi High School has been a success and an inspiration to her classmates.
"It inspires everybody," said her classmate, Ty Johnson. "If she can do it, why can't I?"
Her determination to overcome her disability and achieve her goals does not go unnoticed by her peers.
"She knows what her dreams are," said Mary Bagley, another classmate of Chapman's. "She's accomplishing them. It's amazing."
×
Photos
Most recent Utah stories