Estimated read time: 2-3 minutes
This archived news story is available only for your personal, non-commercial use. Information in the story may be outdated or superseded by additional information. Reading or replaying the story in its archived form does not constitute a republication of the story.
GERLACH, Nev. — Located about 100 miles north of Reno, Nev., is the tiny town of Gerlach. Twenty miles north of that is Fly Ranch, home to one of the most unique geysers in the world.
The Fly Geyser is a geological oddity that is partially man-made. It all started in the early 1900s, when ranch owners there drilled a well to aid their farming efforts. They soon hit water, but it was a scalding 200 degrees. The drilling crew hastily capped the well and abandoned their efforts. Mineral-laden water slowly leaked up through the cap, however, eventually forming a 12-foot calcium carbonate cone.
In 1964, a second well was attempted not far from the first. Again, boiling water was hit and the well was capped. This time, however, the water pressure was sufficient to burst through the cap in several places. Constant jets of water now spray in multiple directions, making the Fly Geyser look like some sort of alien feature.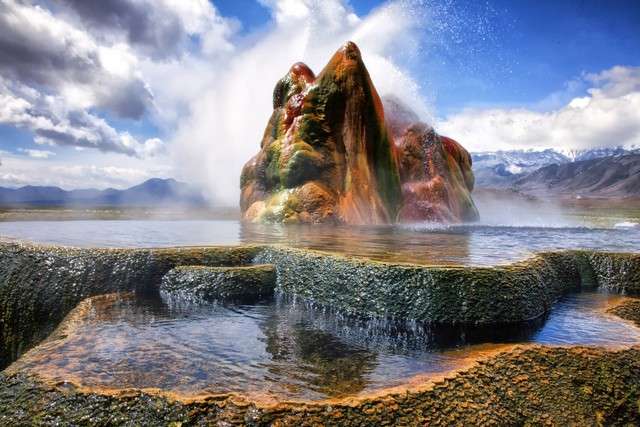 The most striking aspect of the Fly Geyser is its vibrant colors, which are caused by thermophilic algae. The erupting water leaves behind calcium carbonate deposits that have accumulated over the years and have formed the large geyser mound and multiple terraces. Thermophilic algae thrive in these conditions, creating the brilliant red and green hues that give the geyser its unforgettable look.
Getting there, it seems, is the tricky part.
Fly Ranch is a private property that's protected by a heavy-duty fence. Owners are happy to give tours of the geyser, but you have to contact them first and arrange for them to let you in. There is a fee for the tours, but it varies month to month.
Flyranchproject.org has information about the geyser online. However, the best way to book a visit may be to stop by Bruno's Country Club in Gerlach and ask the employees there to help you contact the ranch owners by phone. It takes some effort, but a trip to the Fly Geyser is one you won't forget.
Grant Olsen joined the ksl.com team in 2012. He covers travel, outdoor adventures, and other interesting things. Contact him at grant@thegatsbys.com.
×
Photos
Related links
Most recent Outdoors stories