Estimated read time: 2-3 minutes
This archived news story is available only for your personal, non-commercial use. Information in the story may be outdated or superseded by additional information. Reading or replaying the story in its archived form does not constitute a republication of the story.
Sarah Dallof reportingWill you be relaxing this weekend, kicking back knowing your gift list is complete? Or will you be among the frazzled, hitting the mall and hoping for last-minute gifts and deals.
A lot of times, the hardest part of getting to the shopping is finding a parking space. If you've waited until the final days, you're not alone.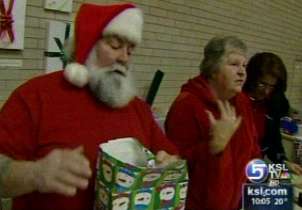 Carly Anderson said, "It's kind of last minute, but that's OK. It's when the best stuff is there, and you get deals."
Today's shoppers, including some who've already dropped, are all trying to find the perfect gifts.
Colten Griffiths said, "Stuff for my mom, my dad and a girl."
And once those gifts are purchased, many move on to see Santa. Instead of giving presents to be unwrapped, Frank Arnold wraps them. While he admits he bears an uncanny resemblance to the big man, Arnold says it's just coincidence. "It just happened that way. My beard is natural."
But that doesn't stop kids from stopping for a second look. "What they like is Santa with tattoos. I just tell them they've never seen Santa without his coat," Arnold said.
For about eight years, Frank and his wife, Sue Borg, both reverends with the It's A Miracle Center, have taken vacations from work to volunteer at the gift wrapping booths. The money they and other volunteers raise goes to several schools and teachers in Utah.
"Somebody has to help children develop and feel like they're wanted," he says.
Their time and effort are both a gift to others and a gift to themselves. He said, "My wife and I just like it, especially when you walk in and give 'em a check. 'What's that for?' 'Whatever you want.'"
Frank and Sue expect to raise about $7,000 to $8,000 this year. They also do other projects during the rest of the year to raise even more. They'll be at Fashion Place until 4:00 Christmas Eve. After that, they're off to enjoy Christmas.
×
Most recent Utah stories