Estimated read time: 2-3 minutes
This archived news story is available only for your personal, non-commercial use. Information in the story may be outdated or superseded by additional information. Reading or replaying the story in its archived form does not constitute a republication of the story.
SALT LAKE CITY — They say a picture is worth a thousand words. A picture of the valley right now is worth at least a cough.
On Tuesday, a thick haze blanketed the areas around Logan, Provo and Salt Lake City. The three cities currently have some of the worst air in the nation, but how does the smoggy, stale air compare with some of the worst polluted cities around the world?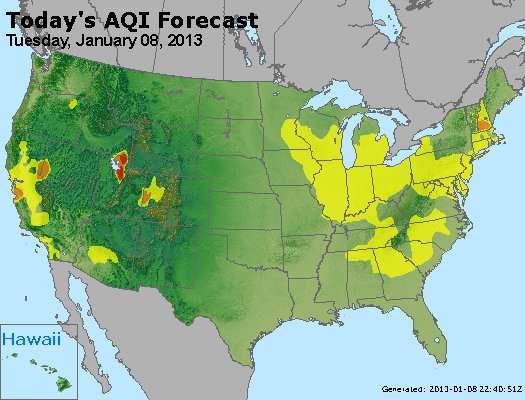 According to the Utah Department of Environmental Quality, the air in the Salt Lake Valley has a PM2.5 level of about 70 micrograms right now — that puts it in the very unhealthy category, and is a level that rivals some of the worst air polluted cities in the world. But, there's an important difference.
There's no way to escape it. And so, life goes on in Utah, even with air quality levels that are filled with very hazardous levels of pollutants and particulates.
And for Brian Moench, with Utah Physicians for a Healthy Environment, it's an annual problem that isn't getting any better.
Inversion: A debilitating event for those with respiratory problems
By Devon Dolan
LEHI — If you're pretty healthy, you may not feel the effects of the inversion at all. But for someone with asthma, it can shake up the daily routine.
"Folks say, you know, the pollution is bad, the air stinks, and that. But if you don't have a condition like this, it's hard to really understand the impact on a person."
Carl Bechtold, of Lehi, has had asthma since he was a child. Most days he doesn't need any medication. But since the inversion settled in a few days ago, his three medications are maxed out.
"I can usually handle a couple of red air days and recover from it reasonably well," he said. "(But) I've been known to wear a respirator on the bus on the way to work."
Any exercise, even indoors, comes to a halt when your lungs are fighting for oxygen by just doing normal activities.
Kyle Gardner, a doctor with Alta View Hospital, explains why. "We're inhaling heavier particles. We're inhaling more particles," he said. "And when you take a big breath, your lungs are essentially trying to filter out what they don't want and take in what it does want, which is the oxygen."
The average healthy person may feel no affects, but bad air quality can be a big problem for seniors and people with health conditions. Still, everyone must power through.
"You just put one foot in front of the other, head out the door, and do what you can Bechtold said.
#sick_effect
"I think this is a severe problem, and there's no fair way to characterize it other than this is a public health emergency," he said.
The numbers back Moench up. According to airnow.gov, four of the five cities with the unhealthiest air today are in Utah: Logan, Salt Lake City, Provo and Brigham City. Grand Junction, Colo., is the fifth.
Utah's air — for now — is comparable with the worst polluted cities in the world, like Beijing, China, based on a measurement taken at the US Embassy there.
Tuesday's levels of PM2.5 particulates in Utah were between 60 and 80 micrograms, according to the Utah Department of Environmental Quality. Beijing's levels were 67 micrograms on Tuesday.
That's nowhere near the worst in the world, though. Hong Kong measures 152 micrograms, according to a government website.
There is an important difference: Utah's annual average is a mere 10 micrograms of PM2.5 particulates. China has an annual measurement of 45 micrograms.
DEQ'S Bo Call calls Utah's bad air an 'episode'.
"We get the right mix of circumstances, you know, temperature, inversion, snow, and several days of bad air," he said. "Other places in the world have bad air like this day in and day out."
Utah isn't the worst in the world, but there are still health implications: Notice all the people who are sick around you — and the effect of the bad air on pregnant women makes it a real concern for a lot of people.
×
Photos
Related stories
Most recent Utah stories