Estimated read time: 1-2 minutes
This archived news story is available only for your personal, non-commercial use. Information in the story may be outdated or superseded by additional information. Reading or replaying the story in its archived form does not constitute a republication of the story.
Keith McCord reporting This is the time of year when we start hearing and saying, "Merry Christmas" a lot. Well, we found a woman in Utah County who's first name is Mary, and, well, you can probably guess her last name!
Nine months ago, Mary Young married Brian Christmas, and took Brian's last name. And so, next Tuesday, Mary will celebrate her first Christmas as Mary Christmas.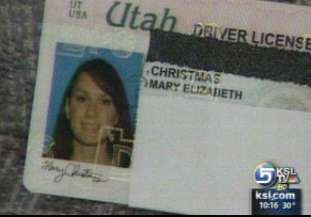 As you might expect, when your name is Mary Christmas, you might have some explaining to do every now and then -- making dinner reservations, for example. "Like when I'm new somewhere, they'll say, 'What's your name?' And I'll say, 'It's Mary Christmas.' So I get this look like, 'Are you serious, like what,'" she said.
Needless to say, she has to pull out her driver's license fairly regularly to prove it.
The last name of Christmas originates in Wales, and throughout history, many people born on December 25 adopted that last name. Mary Christmas isn't the only Mary Christmas out there. According to Ancestry.com there are about 89 women in the country who have that name. She's the only one in Utah.
Despite the teasing, comments, and occasional funny looks, Mary takes it all in stride and has fun with it. Mary and Brian are expecting their first child early next year, and they'll go with a traditional first name rather than try to make a play on words.
By the way, Mary and Brian Christmas got engaged on Christmas day last year, of course!
×
Related links
Most recent Utah stories