Estimated read time: 2-3 minutes
This archived news story is available only for your personal, non-commercial use. Information in the story may be outdated or superseded by additional information. Reading or replaying the story in its archived form does not constitute a republication of the story.
SALT LAKE CITY — A lot of people will be drinking this holiday season, and a lot of them may not realize how much they've been drinking at bars and parties. Now, a local company is working on a way for them to find out.
It's a Breathalyzer machine that blends into the scenery among the pool tables at the Canyon Inn in Cottonwood Heights.
'Breath Advisor' is a company, founded by recent Westminster College grad Jason Knott, who himself has been stopped after a night of drinking at this very bar.
"I thought I was fine," he said. "I got pulled over immediately after I left the bar."
Knott knows a lot of people think they're fine, but field sobriety tests often show a different story.
In 2010, more than 15,000 people were arrested for DUI in Utah — a number that was actually down from the year before. The average breath test shows a blood-alcohol level of 0.14, well above the legal limit of 0.08. Three-fourths of those arrested are males, according to the Utah Commission of Criminal and Juvenile Justice.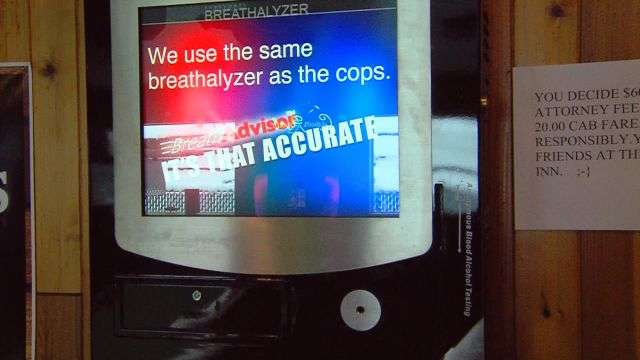 Bartender Zak Hurst has strong feelings about customers ignoring the realities of drinking and driving.
"It's not a good thing to get in the car any time after you've been drinking," he said. "But people do it."
Knott said the technology in the machine is the same police use, calibrated once a month for accuracy. And he said people at Canyon Inn are intrigued by it, and are checking themselves at $2 a go.
He said people feel more lear-headed coming down from a night of drinking than they do at the peak of their inebriation — and that is when they are likely to make bad decisions.
"I think people should be informed where they're at," he said. "The consequences are severe for a DUI. But at the same time, people should have the opportunity to get an accurate reading before, if they choose to drive home."
×
Related stories
Most recent Utah stories