Estimated read time: 4-5 minutes
This archived news story is available only for your personal, non-commercial use. Information in the story may be outdated or superseded by additional information. Reading or replaying the story in its archived form does not constitute a republication of the story.
SALT LAKE CITY — From a 13-year-old's anger about his cancer diagnosis and treatment came the desire to make change.
Trevor Schaefer, now 23, was going to play football for his middle school when he began getting headaches so intense they made him nauseous. Just before he entered his teenage years, he was diagnosed with brain cancer.
"When I was told that I had cancer the first word that came to my mind was 'death.' I think the only time I had ever heard the word was on the news when some well-known celebrity died of cancer," Trevor wrote in 2007, five years after his diagnosis. "I was completely unaware that cancer could strike anyone, at any age, at any time."
In Nov. 2002, at 13-years-old, Trevor underwent surgery to remove the cancer from his brain. He endured painful chemotherapy — which left him with a limp — and radiation. Throughout chemotherapy, he had his dog Elliot, to keep him company.
It was over breakfast — which he couldn't stomach — one morning that he realized something he says saved his life. The then bald and pale teen told his mother he was angry he had cancer and had to endure what he later described as "the hell of cancer treatment." Then he simply said to her: "Maybe something good will come of this so no other kids will have to suffer."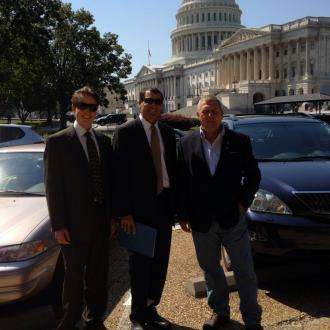 From that conversation, his mother, Charlie Smith, began learning about how a healthy child contracts cancer. She realized Trevor wasn't the only young person in small-town McCall, Idaho suffering from cancer. At least four other young adults and children had brain cancer at the time. Smith began looking for answers.
She investigated the environmental past of McCall, a small resort town on the western edge of Idaho. Smith talked to a diver who had seen the bottom of the glacier lake the town was built around. It was covered with trash, old cars and railroad ties from an old lakeside mill. At that time, 70 percent of the town got their drinking water from the lake.
Among other things she found in her research was reports of a faulty water treatment system at the sewage treatment plant.
Meantime, Trevor's body and treatments abated the cancer and he realized his life would not go back to the normal he knew before his diagnosis.
"Once you're free of cancer, it's not over," he said in an interview with ksl.com. "It doesn't go away and life goes back to normal. Cancer is always going to be with me, with every kid, every person who battled it."
Trevor said he is lucky. He has all of his limbs. But he has vision problems, a constant ringing in his ears and trouble recalling details.
In an effort to make good out of his situation, armed with the information his mother had gathered about what causes cancer in children and the specific risks associated with their town's environmental issues, they created Trevor's Trek Foundation in Sept. 2007 to increase awareness of childhood cancer and support research surrounding it.
---
Once you're free of cancer, it's not over. ...Cancer is always going to be with me, with every kid, every person who battled it.
–- Trevor Schaefer
---
Later, they looked toward the government to help them further the cause that had permanently changed Trevor and other children. Senate Bill S.76, or Trevor's Law, would "help communities determine whether there is a connection between 'clusters' of cancer, birth defects and other diseases, and contaminants in the surrounding environment," a press release about the bill said.
The bill, sponsored by Senators Barbara Boxer (D-CA) and Mike Crapo (R-ID), is designed to authorize federal agencies to form partnerships with states and academic institutions for the purpose of investigating disease clusters, increase assistance to areas impacted by those clusters and strengthen agency coordination and accountability in their investigations.
The bill, which passed committee in June, awaits introduction to Senate.
Trevor says both Boxer and Crapo are fully committed to pushing the bill through Senate in the upcoming year.
"I hope," Trevor wrote, "the story of our travails and triumphs will help to inspire others in the fight against childhood cancer and other chronic diseases that prey on the innocence of children."
Trevor continues his work with Trevor's Trek. A book telling his story, "The Boy on the Lake," was just released. The foundation is building a pavilion in Boise to honor childhood cancer patients. He surrounds himself with good work that makes a difference.
"Before cancer I was just a normal kid. …My focus was being a kid and growing up. I wasn't very aware of some of the harsh realities that are involved in life and living. When cancer struck me it definitely opened my eyes to life, and giving me that message that there's more to life than fun and playing," he said. "I don't want to say I didn't care for others before I had cancer, I just didn't think about it. Going through cancer and having my childhood and innocence stripped from me by this bully opened my eyes to how many other children suffer from this."
×
Photos
Related links
Most recent Utah stories