Estimated read time: 3-4 minutes
This archived news story is available only for your personal, non-commercial use. Information in the story may be outdated or superseded by additional information. Reading or replaying the story in its archived form does not constitute a republication of the story.
FILLMORE — Perhaps the answer to Kilee Krause's prayers came as she was driving down I-15 on a rainy day in October while trying to make a decision about serving a mission for The Church of Jesus Christ of Latter-day Saints.
Krause, 18, was on her way at the time to the St. George temple of the LDS church. The Southern Utah University student began hydroplaning near milepost 36 and spun into a guardrail, at which point her driver's side door was struck by another vehicle. Krause was rushed to an area hospital, where she was put into a medically induced coma that, even once the medication stopped, she has been unable to shake completely.
Almost two months to the day, though, Krause returned home for the first time. She left Utah Valley Regional Medical Center's rehabilitation unit and went down halls lined with hospital staff, exiting the hospital to the cheers of about 50 friends and family members happy to see how far she has come, and what a miracle her recovery has been.
The group was but a small sampling of those who have been affected by Kilee's story, according to her father, Kendall Krause. He said the family has received letters and notes from strangers telling them the effect Kilee's story has had.
"There is no doubt in my mind that the past two months have acted as a mission," Krause said. "People I don't even know have told us, 'You inspired me to pray again,' '... to believe again,' '... to hug our children a little longer.'"
He said Kilee had been on her way to the temple to pray about whether to go on a mission at 21, as she had originally planned, or at 19, the lower age announced in October by LDS Church Pres. Thomas S. Monson. But ever since she started talking again at day 46 of her hospital stay, there has been no question. The Krauses are hoping — and praying — that by the time she turns 19 in August, she will be ready to go.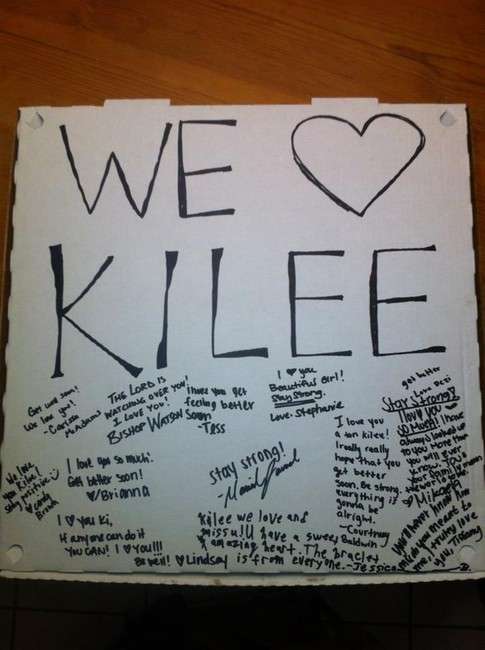 "She's already served a mission, in a way. She's touched so many people by the example she's been and the strength she's had," Krause said. "Now, she has about a year, and we're hoping by then she's fully recovered, or at least close to it."
Her journey so far has left Krause "absolutely sure" she will make a full recovery. He said he first knew she was on her way back on day 34, when she moved her hand to her nose to rub it — a distinct Kilee mannerism.
He said even when his daughter was miserable and being poked and prodded, she would say "thank you, thank you for helping me" to the hospital staff. "That was when we knew she was coming out of it," Krause said.
She still has a way to go. While her long-term memory is intact, she has yet to regain her short-term memory, able to hold onto new information for only 10–15 minutes at a time. Krause said Kilee can remember bigger things, though, like when someone does something nice for her or tells her directly to remember something. And a big milestone came when she was able to form a new memory about a week ago, when one of her best friends did her nails.
"She didn't remember when they had been done, but she remembered who did them," Krause said.
For now, the family is focusing on what they are grateful for — Kilee's recovery, and the love and support of countless people — and on helping Kilee prepare to serve a mission, which she said she wants to do. And the mission she embarked on the day of the accident may not be over just yet.
"People want to believe in miracles," Krause said. "We live in a society that is all about temporal things that don't mean a lot, but to have something like this, where you know divine intervention has come into play, I think that's what people grasp onto. They want to know there are still good things that happen to good people."
×
Related links
Related stories
Most recent Utah stories