Estimated read time: 2-3 minutes
This archived news story is available only for your personal, non-commercial use. Information in the story may be outdated or superseded by additional information. Reading or replaying the story in its archived form does not constitute a republication of the story.
Lori Prichard reporting A Springville man arrested at least 10 times in 22 years for drunken driving is headed back to jail again. This time it's not for drinking and driving.
Robert Van Dyke was a no-show in court today, and because of that, the judge ordered Van Dyke be picked up and put in jail.
Just about everybody, including his attorney, was wondering why he didn't go to court today. The preliminary hearing was set for 11 a.m., and Van Dyke's attorney got a call on his cell phone a few minutes after 11:00.
After that call, his attorney told the judge that Van Dyke didn't have a ride to court, and because he's had his license taken away for drinking and driving, he didn't have a way to get there.
The judge didn't buy that argument. In fact, she asked why he couldn't have just taken the bus. So, back to jail Van Dyke goes, and this time he's not getting out for a few days.
There will be no bail for Van Dyke until he shows up at his rescheduled preliminary hearing Wednesday, when sheriff will be taking him to court.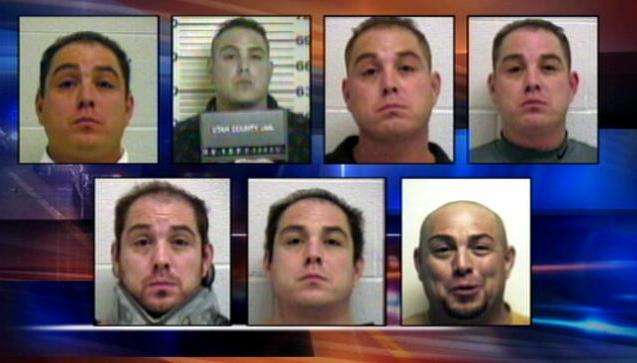 Once in jail, the Utah County Attorney's Office will ask that he stay put. "That's what we've been asking for the whole time. Because of the lower bail amount, he has been out. There wasn't much we could do about it until today," Utah County Deputy Attorney Craig Johnson said.
Today, as Van Dyke's attorney waited for his client to show up to court, others waited too. "Officer Johnson took time out of his busy schedule. He could have been out prosecuting, finding more drunk drivers. But instead, he was sitting in court waiting for Mr. Van Dyke, who didn't, who chose not to show up today," Johnson said.
Officer Johnson is the Spanish Fork police officer who arrested Van Dyke on his latest charge of drinking and driving. "I definitely felt that he was unsafe to be operating a motor vehicle, and that is why he was arrested at that time," Officer Matt Johnson explained.
This time, Officer Johnson will be arresting Van Dyke for being a no-show. "We'll respond to the residence and serve the warrant and transport him to the Utah County Jail where he will be held until the court hearing," he explained.
As of 5:00 p.m., Van Dyke had not been arrested. We'll, of course, keep following this story.
×
Related links
Most recent Utah stories