Estimated read time: 2-3 minutes
This archived news story is available only for your personal, non-commercial use. Information in the story may be outdated or superseded by additional information. Reading or replaying the story in its archived form does not constitute a republication of the story.
SALT LAKE CITY — UTA's new FrontRunner South line, which runs between Salt Lake and Utah counties, opens Monday morning. But with the new line comes growing pains for other UTA services.
The FrontRunner South line runs 45 miles from Provo to Salt Lake with four stops in Utah County. It also stops in Draper, South Jordan and Murray. That means commuters now can ride the train from Ogden to Provo, reducing transportation costs and traffic.
UTA expects the new line will service about 6,800 people every day. It opens with approximately 50 trains running per day.
Express Bus service will be discontinued with the arrival of FrontRunner South. UTA says accommodations are being made for those passengers who are affected.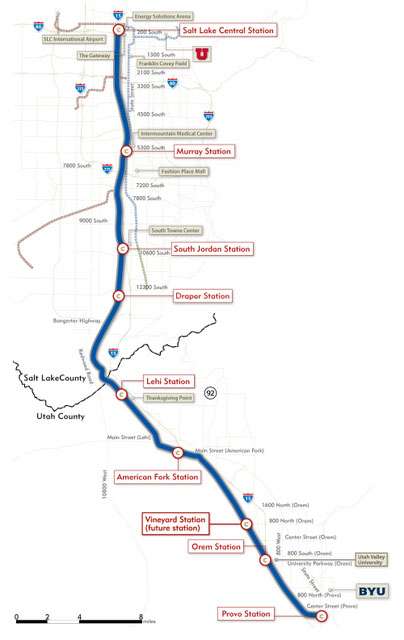 It's added a new station at North Temple and several direct express shuttles servicing the downtown area.
The new line is expected to triple inter-city transit ridership, according to UTA.
The majority of the changes to bus services will impact riders in Utah County. Those who used the Express Bus are now being asked to transition to FrontRunner. The local bus system in Utah County will be reconfigured to create feeder routes and connections to FrontRunner stations in Provo, Orem, American Fork, and Lehi.
Several new routes will also serve areas such as Eagle Mountain, Saratoga Springs, and cities in southern Utah County.
In Salt Lake County, the majority of the changes will focus on downtown.
Route 500 that serves the Capitol will be reconfigured to run bi-directional trips, with stops at North Temple and Salt Lake Central stations.
Route 347, which carries commuters from Riverton and Herriman, will be replaced with a FrontRunner connector - a new route 534.
Opening the new line also means some departure times for trains in Ogden and Salt Lake could double.
Trains that used to stop in Salt Lake City and go back to Ogden will instead continue on to Provo. Departure times in the morning and afternoon commutes will remain at every 30 minutes. But during off-peak hours, especially for the north line, the wait between trains will be closer to an hour.
UTA officials say they can't keep the trains going to Ogden ever 30 minutes during off peak-times. And the agency doesn't have the budget or rail capacity to add more trains.
UTA characterizes the wait as a "growing pain," and notes FrontRunner has now doubled in size in terms of distance covered. UTA says commuters will adjust to the new schedule.
×
Photos
Related links
Related stories
Most recent Utah stories