Estimated read time: 3-4 minutes
This archived news story is available only for your personal, non-commercial use. Information in the story may be outdated or superseded by additional information. Reading or replaying the story in its archived form does not constitute a republication of the story.
SALT LAKE CITY — Commuters heading to Salt Lake City from Utah County may have an alternative form of transportation sooner than expected.
Construction and testing on the FrontRunner South commuter rail line is moving ahead faster than anticipated, according to the Utah Transit Authority.
It promises commuters they will save time when the new FrontRunner South line opens Dec. 10. The agency projects approximately 6,800 passengers will ride the train each day. In addition to four stops in Utah County, FrontRunner South will also have stops in South Jordan and Murray.
For commuters like Dean Sanpei of Provo, having an alternative to driving into downtown everyday will be a great relief.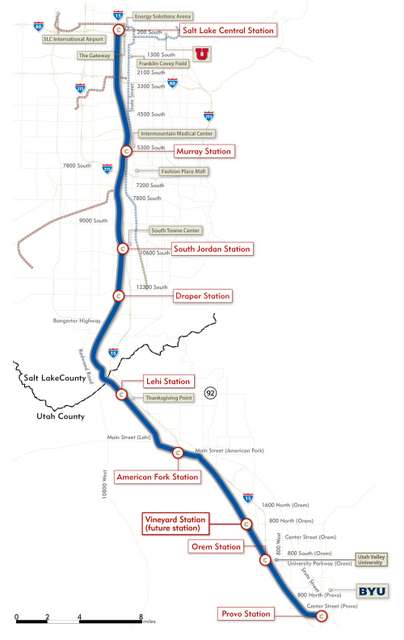 "I spend oodles and oodles of time on the road every day," he said. "It's really bad when there is an accident ... or in the winter when it snows. My record for going from Salt Lake to Provo is over four hours."
Sanpei said his average daily commute is about an hour and 15 minutes each way, but time is often increased by stalled vehicles and more recently BYU football games. Being able to avoid traffic headaches will be a welcome option when the rail line begins operation later this year.
"FrontRunner doesn't have to deal with accidents on the freeway or bad weather," he said. "It's the same commute time no matter what."
Sanpei said he looks forward to being able to spend more time with his family and less time frazzled behind the wheel on a clogged I-15 freeway.
That time is coming soon, according UTA spokesman Gerry Carpenter, who said the FrontRunner South line is expected to begin transporting passengers beginning Dec. 10. He added that the project is also under budget thus far.
"Right now we're moving into 'pre-revenue' testing," Carpenter said. "(It's) where we emulate a full schedule … running as many trains a day as we will once we're running passengers."
He said this phase allows the agency to ensure that all track signals are working properly, operators are fully trained and schedules are appropriately aligned. Test trains run at maximum speeds of up to 79 miles per hour, he said, the same top speed allowed when service begins.
Airport TRAX line
As for the Airport TRAX line, the $350 million extension is scheduled to be operational by April 2013.
Airport TRAX Line Stops
500 West Station 800 West Station 1100 West, near Utah State Fairgrounds 1500 West Station 1950 West Station Airport Station, east of Terminal One
"You could see a test train as soon as the end of this month," Carpenter said, adding that the vast majority of the work on the extension is already completed.
Under construction since January 2009, the new light rail line is one of five rail projects UTA has had on its construction agenda in the past few years. The others include the $535 million Mid-Jordan TRAX extension and the $370 million West Valley TRAX line — which both began operation in August 2011. Also in the works are the $212 million Draper TRAX extension and the aforementioned $850 million FrontRunner South commuter-rail line that will run from downtown Salt Lake City to Provo.
The six-mile, airport light-rail line will have stations along North Temple at 500 West, 800 West, 1100 West, 1500 West, 1950 West and a Welcome Center station at Salt Lake City International Airport. Passage from the airport to Arena Station at 400 West and South Temple in downtown Salt Lake City is estimated to take 20 minutes with trains departing every 15 minutes, with about 4,600 daily passengers expected.
Construction on the project is scheduled to be finished later this year, with testing of trains and the electrical systems to begin in early 2013.
Carpenter said all of the projects were originally scheduled to be completed by 2015, but that deadline will likely be reached two years earlier.
"We have treated all five projects (Mid-Jordan, West Valley, Draper, Airport and FrontRunner South) as one big project/program. They share the same overhead/administrative costs," he explained. "The original budget was $2.8 billion for all five lines and the program is coming in at about $2.3 billion, so (we are) about $500 million under budget."
×
Photos
Most recent Utah stories