Estimated read time: 3-4 minutes
This archived news story is available only for your personal, non-commercial use. Information in the story may be outdated or superseded by additional information. Reading or replaying the story in its archived form does not constitute a republication of the story.
SALT LAKE CITY — A group of astronomers is looking for thousands of volunteers to help them with a new project that may answer how galaxies form and how stars form within these galaxies.
The project explores the galaxy next door, Andromeda, which is about 2.5 million light years away, or 14 billion billion miles.
The Hubble Space Telescope began collecting images in 2010. There are about 3 billion pixels of images and that's where volunteers are needed.
"We are hoping to recruit volunteers to look through them and identify groups of stars that we call 'star clusters,'" said Anil Seth, an organizer of the Andromeda Project and an assistant professor of physics and astronomy at the University of Utah.
The Andromeda Project is a collaboration that includes scientists and website developers at the University of Utah, University of Washington, Adler Planetarium in Chicago, Oxford University, University of Minnesota, University of Alabama and the European Space Agency.
Star clusters are important because their ages are easy to measure. Astronomers determine a star cluster's age by the mass of its brightest, most massive star. Finding star clusters can be difficult. Eight scientists spent more than a month each searching through 20 percent of the available images just to find 600 star clusters. That's less than a quarter of the 2,500 star clusters believed to exist in the full set of Hubble images of Andromeda, which is also known as galaxy M31.
The reason they need volunteers to help identify star clusters is it would take too long for the astronomers to look for star clusters on their own, and pattern-recognition software isn't good at picking out star clusters.
They set up an interactive website where volunteers can help identify the star clusters. The site will guide people through the process. When they're done examining one photo, another will automatically come up. People don't need to be astronomy buffs to participate in the project.
"There's undoubtedly going to be some amateur astronomers who are really excited about this," Seth said, "but I expect there to be retired people, children or people on their lunch break."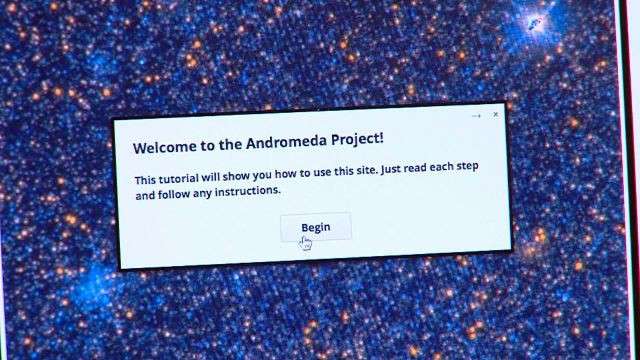 There are about 10,000 images, and organizers want them each to be viewed as many as 20 times. Each image is 725 pixels by 500 pixels. They are both in color, and black and white. After looking at a few images, Seth said people can learn to see the patterns the clusters make. A trained volunteer will take about 20 seconds per image, he said.
All the information that people circle on the photos will be placed in a database that the astronomers will examine later.
But what if the volunteers are bad at identifying clusters? The project creators have come with a way to rank individuals and see how well they do with the task.
They say some images also contain completely fabricated images of "synthetic" star clusters with a wide range of sizes and masses. The organizers say that will help the astronomers determine how small a cluster can be detected.
With so many photos, it could take up to a year before Seth and the others can start using the information scientifically.
Conducting a big project like this on the web is a natural, Seth said. "People do all sorts of things online. They look at Facebook, look at stupid videos on YouTube. So this is something that, maybe, rather than doing that, you can help us do science."
Contributing: Viviane Vo-Duc
×
Photos
Related links
Related stories
Most recent Utah stories