Estimated read time: 2-3 minutes
This archived news story is available only for your personal, non-commercial use. Information in the story may be outdated or superseded by additional information. Reading or replaying the story in its archived form does not constitute a republication of the story.
BOYLSTON, Mass. — A Massachusetts boy had a dream come true recently thanks to his own determination and a little help from LEGO.
James Groccia, an 11-year-old with Asperger's Syndrome, saved his birthday money and other cash for two years to buy an expensive LEGO set: the Emerald Night Train. But just as he reached the $100 necessary to purchase the set, he and his parents learned it was no longer in production.
"I just couldn't believe it wasn't available anymore," Karen Groccia told the Banner. "It was all over the place last Christmas, but there weren't any available, now. There were some available on eBay and Amazon, but they were over $200. That was just too much."
Groccia and her son got the idea from a therapist at a LEGO play group that they should write the company directly, explaining James' intense desire for the set and the lengths to which he had gone to find it. Groccia said she played only a supervisory role in the writing of the letter, which they mailed Sept. 1.
James explained in the letter how he had saved all his money for two years to buy "the LEGO set of my dreams," and when he found out it was no longer in production, he was "completely crushed."
"I got another LEGO set, thinking I could forget about the Emerald Night, but every time I see it anywhere online I get very sad and disappointed," he wrote. "I still want the Emerald Night so badly, but there are none to be found."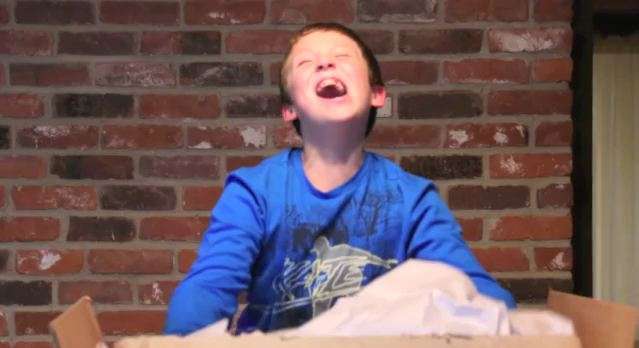 He asked the company if there were any sets left at their headquarters. "I have never wanted a LEGO set so badly ever in my life," he wrote.
The company wrote back a few weeks later with an apology letter, acknowledging the boy's disappointment. But James was in for a surprise: a package arrived from LEGO on his birthday, Oct. 19. A letter accompanying the package said the lengths to which the boy was willing to go to find the LEGO set had prompted the company to track one down for him, which they had enclosed in the package.
The family caught James' reaction on camera as he opened the package, which his mother said she had not known would be arriving.
×
Photos
Related links
Related stories
Most recent Lifestyle stories