Estimated read time: 2-3 minutes
This archived news story is available only for your personal, non-commercial use. Information in the story may be outdated or superseded by additional information. Reading or replaying the story in its archived form does not constitute a republication of the story.
Alex Cabrero reporting One thing every parent wants for his or her child is a good Christmas. Unfortunately, not every parent is able to provide that, which is where the Salvation Army comes in.
The Salvation Army is busy every single day of the year, but the days leading up to Christmas seem to be the busiest of them all. That's especially true this year because the Salvation Army has taken over operations for several popular charities from other agencies. It means better help to people who need it.
Today was a big day for Lupe Aonj. "I woke up this morning and got ready and came quickly down here," she said.
She didn't waste any time at all because the faster she got her paperwork done, the faster Christmas presents would be found for her four children.
"[It's] very important because I really don't have anybody to help out to buy presents for my kids. I like the fact that they're helping out a lot of families," Aonj said.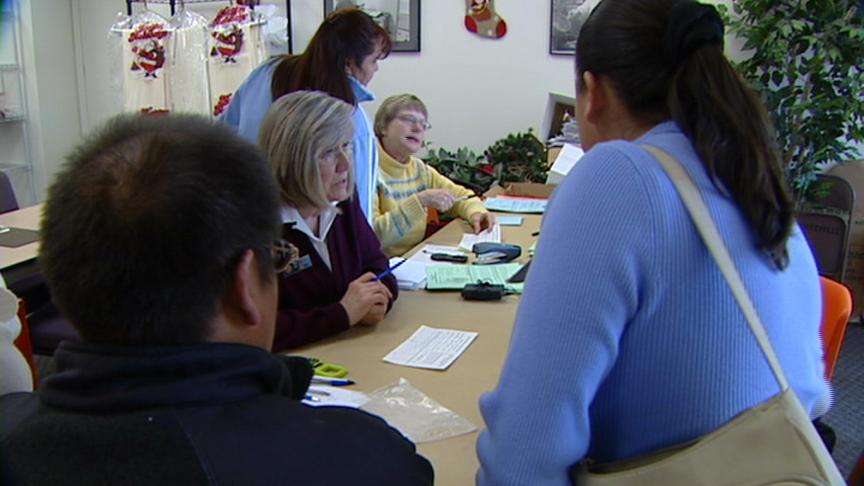 When Aonj says "they," she's talking about the Salvation Army. The organization has been holding registrations the past few days for parents to sign up to get toys for their children.
"The greatest challenge is to make sure we can match the supply to the demand," said Maj. James Sullivan, of the Salvation Army.
Sullivan says they have a lot of toys ready to go but could always use more, especially this year.
Usually, the Salvation Army handles the "Angel Tree" program, but this year it has taken on the Marines' "Toys for Tots," the United Way's "Sub for Santa," and other popular Christmas charity programs. "That way we avoid duplication of our services. We can combine our efforts and do one application process," Sullivan explained.
It makes getting help easier for Aonj, who says she's just happy her four young children can still ask Santa for toys and believe in him. "It's very important because I just want to make my kids happy," she said.
Of course, the success of these programs depends on those who give. To donate toys, you can get in touch with the Salvation Army by clicking HERE. You also can check out other charities, including KSL's own "Quarters for Christmas" program, by clicking on the related links.
×
Related links
Most recent Utah stories