Estimated read time: 1-2 minutes
This archived news story is available only for your personal, non-commercial use. Information in the story may be outdated or superseded by additional information. Reading or replaying the story in its archived form does not constitute a republication of the story.
WENLING, China — A Chinese freeway has been built around a half-demolished apartment building after the elderly couple living there refused to move out.
The Chinese government offered compensation for the move, but homeowners Luo Baogen and his wife did not feel it was enough to rebuild their lives elsewhere, according to News Limited.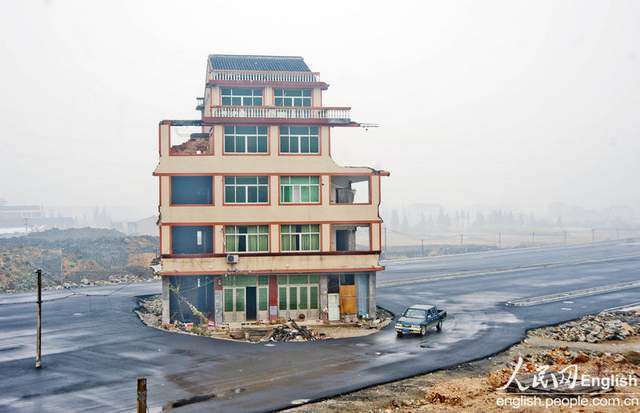 A portion of the five-story building was demolished to make room for the freeway, but the couple's apartment, as well as adjacent apartments for structural integrity, were left standing.
For now, the couple has not seen much disruption, according to China Daily, but that may change once the road, which leads to a nearby airport, is opened.
A recent change in Chinese law prohibits the demolition of a home without the express written consent of the homeowner.
Luo and his wife are a part of a recent trend in civil disobedience in China: citizens, dubbed "nail householders," refuse to leave their homes to make way for construction projects as rapid urbanization leads to the razing of many cities' older districts.
More photos at People's Daily Online.
×
Related links
Most recent Features stories