Estimated read time: 2-3 minutes
This archived news story is available only for your personal, non-commercial use. Information in the story may be outdated or superseded by additional information. Reading or replaying the story in its archived form does not constitute a republication of the story.
STOCKHOLM, Sweden — Sweden has found itself faced with a problem unique in the Western world: its citizens produce too little trash.
Recycling is such a part of Swedish life that only 4 percent of household waste in the country ends up in the landfill — the rest is either recycled or burned to provide energy to homes as a part of its waste-to-energy program. The incinerated trash provides 20 percent of the country's district heating, as well as electricity for a quarter of a million homes.
The problem with how green the country is, though, is that the country is producing much less burnable waste than it needs.
"We have more capacity than the production of waste in Sweden and that is usable for incineration," Catarina Ostlund, Senior Advisor for the Swedish Environmental Protection Agency, told Public Radio International.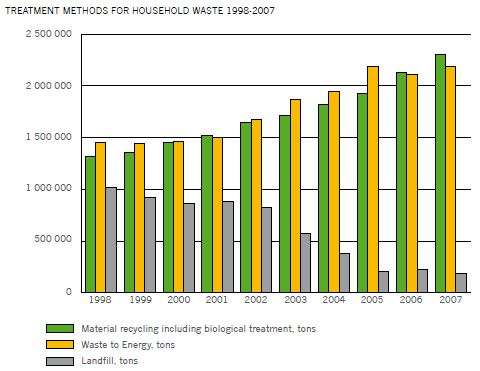 Instead of discouraging residents from recycling, the country has found an interesting solution: importing trash from other European nations. Nearly 800,000 tons of waste will be imported from Norway each year to fuel the energy-to-waste program.
As a part of the deal, Norway will pay Sweden to take its trash, the ashes of which Norway will be responsible to dispose, according to Wired.
Norwegian officials say despite the cost and burden of taking the ashes back, the plan is still the most economical way to dispose of their own country's garbage.
Sweden has been incinerating its garbage since the 1940s, and the popularity of the program has increased over the decades as energy production has dramatically increased per ton of trash burned, and dioxins released into the air have been reduced. As the program shows continued success, Ostlund believes the world will see a day when garbage is worth something.
"I would say maybe in the future, this waste will be valued even more so — maybe you could sell your waste because there will be a shortage of resources within the world," she said.
×
Related links
Related stories
Most recent Features stories