Estimated read time: 5-6 minutes
This archived news story is available only for your personal, non-commercial use. Information in the story may be outdated or superseded by additional information. Reading or replaying the story in its archived form does not constitute a republication of the story.
SALT LAKE CITY — It is difficult to imagine, in a landlocked state, the sight of an ocean swelling up beyond its usual boundaries, sweeping through homes and taking lives with it.
We have seen devastation, of course, in the fires that tore through Central and Southern Utah this summer, and in the [wind storm that wreaked havoc in Northern Utah](<Damage from windstorm could total more than $20 million >) last December. The suffering here, while on a smaller scale, was as real to those who experienced it as it was for those affected by Hurricane Sandy.
Perhaps it is the memory of our own suffering — and those who came to help — that pushes us to do the same for those we've never met. Nature knows no racial, religious or socioeconomic boundaries when it rages.
Such was the case with Sandy, which killed at least 131 people in eight different states, hitting New York and New Jersey — particularly Staten Island — the hardest. The storm caused tens of billions of dollars in damage, left millions without power and destroyed thousands of homes, including that of a man named Robert who lived in Midland Beach, Staten Island.
Robert was one of the many people Ashley Krause met while helping clean up the storm damage. It was the vacant look in Robert's eyes that struck Krause, a volunteer with Mormon Helping Hands, when she first arrived to help him salvage what he could of his belongings. She said there was one wall in his house that looked safe — at least from the outside.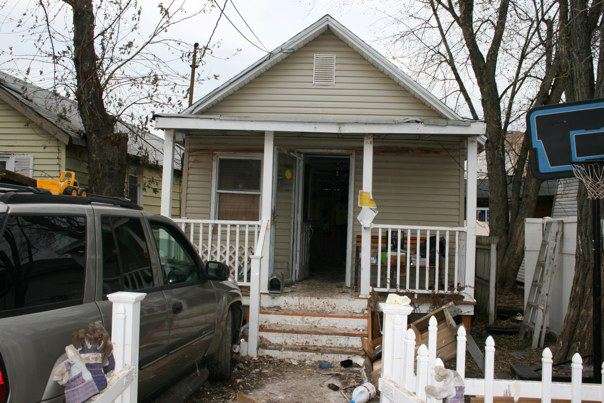 "He asked, 'Do you think we could save that? It looks OK,' but we had to tell him no, it has to go," Krause said. "Your whole life is gone. You don't know what to do. You could see it in his eyes, he was really overwhelmed."
Robert and his wife had heeded evacuation orders, but his neighbor had returned for her dog. Unable to escape the storm, she wound up drowning. Next door, a house had shifted off its foundation and was sitting at an angle, propped up on one side by its own front porch. All around them in the street were the unsalvageable belongings of those whose homes — and lives — had been destroyed.
"I guess in a way you could call it a war zone," Krause said. "It was like being in a third-world country. Everything is dirty. There are cars caked with mud and filled with debris in places no one could have parked them."
Krause's experience during the storm
"During the storm, it was like fireworks off in the distance as trees were falling and hitting power lines and transformers.

"The morning after the storm, I looked out the front door and just thought, 'Oh my gosh.'" My neighbor has a huge oak tree that had fallen on her home.

"It was this kind of thing all over town. You didn't know which power lines were still alive and which were out. Pretty much every main artery off the island was blocked by a tree.

"It was scary. No one had power. We didn't want to send kids out into the neighborhoods. We had a small generator so we were able to boil water on the stove.

"About a week after the storm, there was a power surge at the water treatment center, so we were instructed to fill our bathtubs and get as much water as we could. We were without drinkable water for three days.

"It was all these incidental things after the storm that were causing problems, even though we were lucky enough not to have our house hit."
Those who would not be allowed to return to their homes were separated from those who could by a color: Green meant your home was safe; yellow meant it was unlivable, but salvageable. Red was a condemnation, and according to Krause, there were so many homes condemned "they ran out of stickers, and were writing on the homes with marker."
Robert got a yellow sticker. While he couldn't return home to live, he would at least be able to repair the damage, despite the ring of dirt running around his home that told him the water had at one point reached above the front door, inches from the ceiling. It would be all right.
"I think just having people there to help is the important part," Krause said. "We worked side by side and got him to the next step. It was like a little glimmer of hope … life will carry on. It will be OK."
There were other people who were returning to their homes for the first time days after the storm. Many had red stickers. One of those red stickers would lead Krause to get a phone call about her family's old home, which they rent out. The couple was in a hurry to find somewhere to live, but couldn't make it out to look. So they sent a cousin, who looked at the house and reported to the couple that "the closets were small."
"I thought it was really telling," Krause said, "that later the man called and told me when his cousin said that, he told him, 'I have nothing. I don't need closet space.' We have so much, we're concerned we can't fit it into a closet."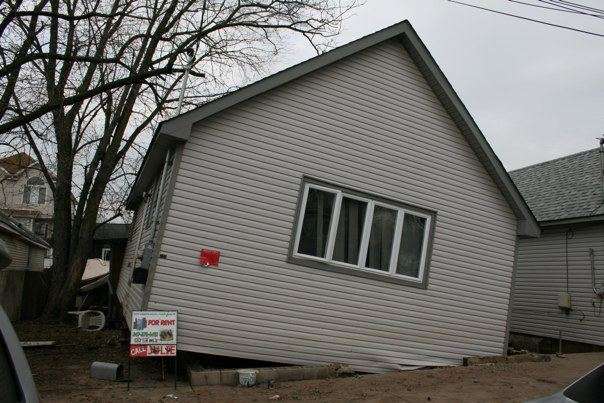 After the storm, many of those belongings lay in the street, offering glimpses into the lives of those to whom they once meant something. There were boxes of wedding photos, the whites of wedding dresses swirling with the murky oranges of a wet New York autumn. Soggy schoolwork and shattered mirrors mixed with splintered kitchen cabinets and wet insulation that was never meant to see daylight again.
"You'd kind of slip and slide," Krause said. "Home after home, there was a coating of sea water mixed with gasoline, sewage, oil. Everything had to be gutted."
It was gutted with the help of thousands of volunteers — including those with Mormon Helping Hands — who, despite any rebuilding they may have had to do, knew it could have been worse. They were witnessing what it could have been. There was a pair of women from Manhattan who showed up to help in such nice clothing that Krause was sure they were tourists there to survey the suffering, but "they put on masks and got to work," she said.
"There's so much sadness, but so much goodness. People have really come together," she said. "It's going to be very slow. Some areas are going to take a very long time. I'm sure it will come back. I'm sure they'll rebuild."
×
Photos
Related stories
Most recent Lifestyle stories