Estimated read time: 3-4 minutes
This archived news story is available only for your personal, non-commercial use. Information in the story may be outdated or superseded by additional information. Reading or replaying the story in its archived form does not constitute a republication of the story.
MAGNA — Late Saturday night, the family of Logan Hardman received word that rescue workers in a helicopter had spotted both Hardman and his friend Chad Tohinaka floating in the Great Salt Lake.
But when they were told the men were about one-half mile apart from each other, the family knew both men were likely dead.
"As soon as we realized Logan and Chad were separated we knew that it was probably done," Logan Hardman's brother Andy Hardman said. "They would never leave each other."
Tohinaka, 25, of Salt Lake City and Hardman, 25, of West Jordan were spotted just after 11:00 p.m., according to Lt. Justin Hoyal of the Unified Police Department. They had been duck hunting with another friend whose identity has not been released.
The third man told authorities that they attempted to return to the lake's marina around 4 p.m. when inclement weather caused their boat to take on water and capsize. After treading water for some time, the third man told Tohinaka and Hardman to stay with the boat while he swam to shore to get help, Hoyal said. He was located by state parks personnel around 5:50 p.m. and was treated at the scene.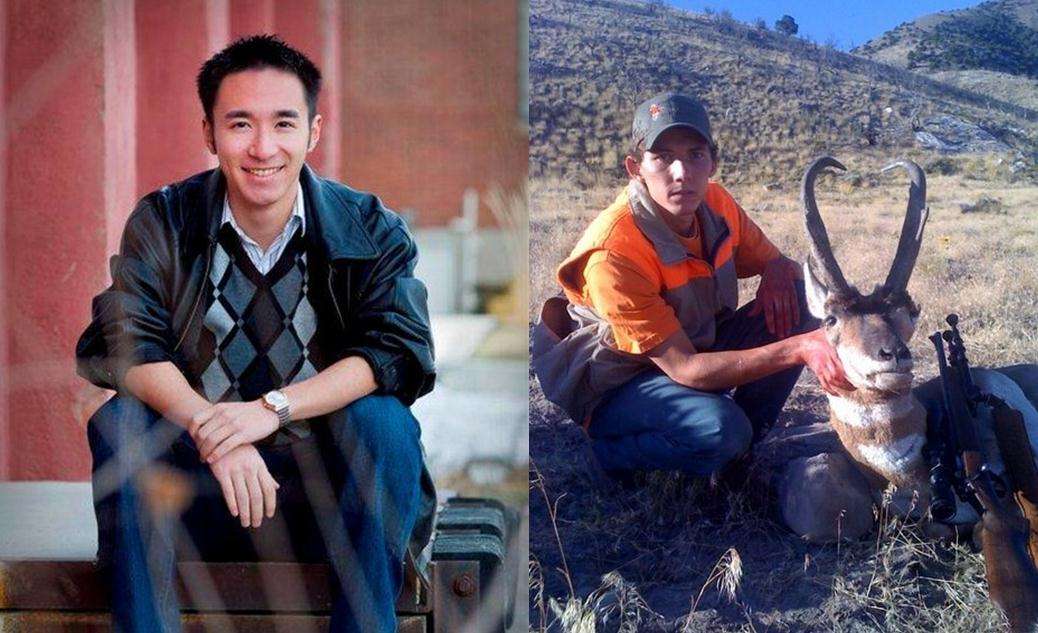 Hardman's three brothers — Tyrel, Andy and Matt — described him as a calm and quiet person with an infectious smile, a passionate husband and father of two, a deeply religious man and an avid duck hunter.
"Every five minutes it was a text about the new duck call he'd found or a new decoy set he bought," Andy Hardman said.
The four brothers share a close bond, they said, perhaps rivaled only by the bond shared between Hardmand and Tohinaka, who met when they were children and have been best friends ever since.
"Logan and Chad have been inseparable since 3 year's old," Matt Hardman said. "They grew up that way and kept doing everything out of Jr. high and high school."
Tohinaka's mother taught Hardman and each of his three brother's when they were in the first grade, Andy Hardman said, and before Tohinaka was old enough for school his mother would drop him off for daycare with Hardman's mother.
"Karen Tohinaka was a second mom to us just as my mom was a second mom to Chad," Andy Hardman said. "We sit here and talk about Logan but Chad wasn't any different. He was an incredible man and he would have laid his life down for Logan, he would have laid his life down for any one of us. He was literally the fifth brother."
#hardman
The men were using a flat-bottom boat that Harbor Master Dave Shearer estimated to be about 12 feet in length. He said the lake had been experiencing mild squall conditions throughout the night, where periods of high wind would pass through suddenly and create choppy two- to three-foot waves.
"That's a very challenging boat to be on in Great Salt Lake conditions," Shearer said. "This is not like boating on any other lake. When the Great Sale Lake decides to get rough it can get very rough."
Shearer said the two men were located approximately six miles east of the marina. The surviving man is reportedly in good condition.
An account is being established in Logan Hardman's name to assist his wife and children, his brothers said. Individuals interested in donating to the account may do so through Zion's Bank.
Contributing: Jennifer Stagg
---
ksl.com has not verified the accuracy of the information provided with respect to the account nor does ksl.com assure that the monies deposited to the account will be applied for the benefit of the persons named as beneficiaries. If you are considering a deposit to the account you should consult your own advisors and otherwise proceed at your own risk.
---
×
Photos
Related stories
Most recent Utah stories