Estimated read time: 6-7 minutes
This archived news story is available only for your personal, non-commercial use. Information in the story may be outdated or superseded by additional information. Reading or replaying the story in its archived form does not constitute a republication of the story.
SALT LAKE CITY — After nearly a week of evidence and testimony, a Burmese man was ordered Thursday to stand trial for aggravated murder in the brutal killing and sexual assault of a 7-year-old neighbor girl.
Esar Met's face stayed as open and unchanged as it had throughout the six-day hearing when the judge announced his decision.
"Based on the evidence presented, including the testimony of witnesses and exhibits, there is probable cause that the offenses, as charged, were committed and the defendant, Mr. Met, committed those offenses," 3rd District Judge William Barrett said.
Met is charged of aggravated murder, a capital offense, and child kidnapping, a first-degree felony, in the death of Hser Ner Moo.
Defense attorney Michael Peterson unsuccessfully argued that Barrett should drop the kidnapping charge, because he said the evidence didn't place the girl "in direct contact with Met at any given time." He said the evidence didn't show that Met had detained the child or that he had her long enough to rise to the level of a kidnapping.
"We don't have anything more than guess work," he said.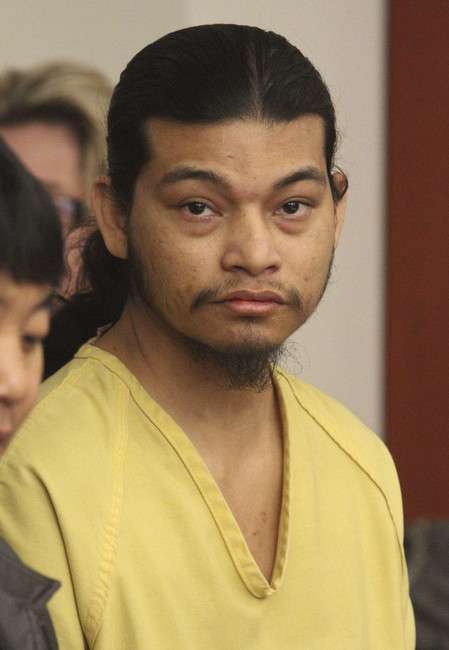 But prosecutor Rob Parrish said the judge could use the evidence and "common sense" to infer that the girl's injuries pointed to a prolonged event.
"What we have here is not a single fatal act, but we have five different types of trauma … that takes time," Parrish said.
"I agree with Mr. Parrish," the judge said.
Testimony from first responders
Experts have previously testified that the girl died from a number of injuries, including strangulation and blunt force trauma to the head, neck and torso. There was also evidence of a sexual assault.
FBI agent James Lamadrid testified Thursday that he was one of hundreds of law enforcement officers searching for the young girl who was reported missing on March 31, 2008.
They were shown a picture of Hser Ner Moo, 7, on April 1, 2008, and were told to first search the single family homes near the South Parc Townhomes where the girl lived. He went to apartment 472 with other agents and searched the main floor and upper level.
"We searched for signs of foul play, blood spatter, anything to indicate a crime had occurred there and found nothing," FBI agent James Olson said.
Both agents testified the four men who lived there did not seem nervous. The men told the agents they stayed in the upper levels of the home, but a fifth occupant lived in the basement. Lamadrid and Olson went to search there and Olson said he saw dark, brown spots on the floor.
"I was concerned immediately that this was potentially dried blood," Olson testified. Soon after, they noticed what appeared to be spattered blood on a west wall.
"That kind of sealed the deal for me that that this was not only blood, but the place where the victim was beaten and/or killed," Olson said. "I think it was significant because it confirmed all the other brown things which could have been paint or cigarette burns were, in fact, dried blood."
---
I just kept calling her name. I took my flashlight and pointed it on her back to see if there was any rise and fall. There was no movement.
–Agent James Lamadrid, FBI
---
Realizing there were other areas they had not searched, Lamadrid made his way to the bedroom and a utility closet before opening the bathroom where he found the girl's body.
"I just kept calling her name," he said. "I took my flashlight and pointed it on her back to see if there was any rise and fall. There was no movement."
South Salt Lake fire paramedic Andrew Maurer was called to the scene. He said he knew there was a search for a missing girl at the apartment complex, but he was not told about why they were called.
"Normally we know what we're going on, we know what we're going into," Maurer said. "This was very hush hush."
Once at the apartment they were informed they had been called to pronounce death.
"Honestly, it was spooky," Maurer said. "The light in the bathroom wasn't working and there was a photographer taking pictures — there was that strobe going off. It was, to me, a horror scene."
He said they quickly confirmed the young girl was dead.
Forensic scientist Chad Grundy earlier testified that DNA testing showed two blood samples from the apartment were a match for Hser, though one blood sample had a mix of DNA. Eight stains were found on the back of the jacket Met was wearing on March 31, 2008, and when he was arrested the next day. Four tested positive for human blood. A DNA test matched the blood to Hser.
Testimony from family, neighbors
The four other occupants of the apartment testified they lived upstairs and rarely, if ever, went into the basement where Met lived. They said Hser sometimes came over to the apartment, but only with her brother. They said they didn't ever see her play with Met.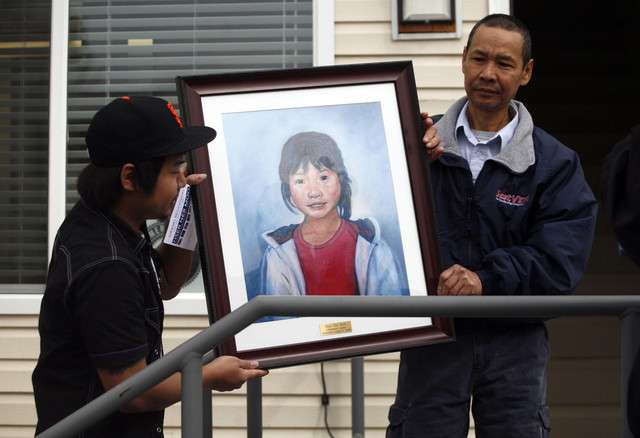 But Nane We, who was 10 years old at the time, testified that she and Hser would often play with Met. Though she said in court that she never saw Met take Hser into his bedroom and close his door, Travis Peterson, an investigator with the Salt Lake County District Attorney's Office, said Nane told him differently in an interview in 2008.
Then, he said, Nane told him that Met had twice taken the girl into his room and closed the door. But he also said the girl did not appear to be uncomfortable or alarmed and confirmed that Nane never said Met harmed them.
The girl's parents said she was healthy and happy the morning of March 31, 2008. Later, her mother, Pearlly Wa, went to a dentist's appointment and left Hser in the care of an aunt and uncle. When the woman returned, Hser was gone. Nane said her mother told her Hser had been looking to play with her, but Nane was sleeping. Another woman who lived in the apartment complex said she saw the young girl between 11 a.m. and 1 p.m. No one is believed to have seen her after.
Met's uncle, Mar Phi, said he saw Met on a bus on the afternoon of March 31, 2008, and Met came home and spent the night there with the family. He was there until his arrest the next day. Phi and his wife, Mi Cho, both testified that Met was acting normally.
The case has taken more than four years to get to this point, largely due to language barriers and Met's struggles to understand the court process. Two Burmese interpreters, an interpreter who speaks both Burmese and Karen, and a Spanish interpreter have aided witnesses and Met during the preliminary hearing.
An arraignment is scheduled for Dec. 7.
×
Photos
Related stories
Most recent Utah stories