Estimated read time: 2-3 minutes
This archived news story is available only for your personal, non-commercial use. Information in the story may be outdated or superseded by additional information. Reading or replaying the story in its archived form does not constitute a republication of the story.
SALT LAKE CITY — Award-winning Utah filmmaker T.C. Christensen is in production with another movie and KSL has an exclusive look right now at the trailer.
Titled "Ephraim's Rescue," the film will take you into the life of a pioneer who left a remarkable legacy.
I've been friends with Christensen for more than 30 years. When I first came to KSL, he was a freelance photographer. He'll tell you he taught me everything I know and that's not far from the truth.
A few months ago, he asked me if I wanted to be in his next film. I agreed, on the condition that I could bring a KSL photographer with me onto the set.
Before filming, costumer Jaqui Newell dressed me in a petticoat and pioneer dress for the cameo. Laurie Vukich oversees the hair and make-up of every cast member.
"When I got into film, that's what I really fell in love with history," Vukich said.
Here's a news flash: Did you know that women in the 19th Century used hair extensions? Those curls at their sides of their faces were attached with combs.
Later on the set, Christensen explained to the other extras and I that we're country folk in Preston, England, enjoying an evening of music. The dance is simple: Six steps counterclockwise, then three claps.
Related:
But the film is not about us. Christensen is telling the story of Ephraim Hanks, a Latter-day Saint pioneer who was a member of the Mormon Battalion and a rescuer of the Martin Handcart Company.
"He had, to a great degree, the gift of healing," Christensen said. "Where he'd just come — 'Forget the doctor! Call Ephraim Hanks!' — and they'd call for him for hundreds of miles, and he would come in and give blessings to people."
Christensen invited Hanks' descendants from throughout the country to be extras.
"I'm in the healing arts myself and he's just always been a real icon for me, growing up," said Dan Hanks, great-great grandson of Ephraim Hanks "I read his stories and I felt his spirit and it's just so good to be in the production."
Great-great granddaughter Brookly Redd said she learned things on set that she never knew about her ancestor.
"You think someone's really great, but you don't realize how great they really are, until you see their life, kind of unfold before you," Redd said.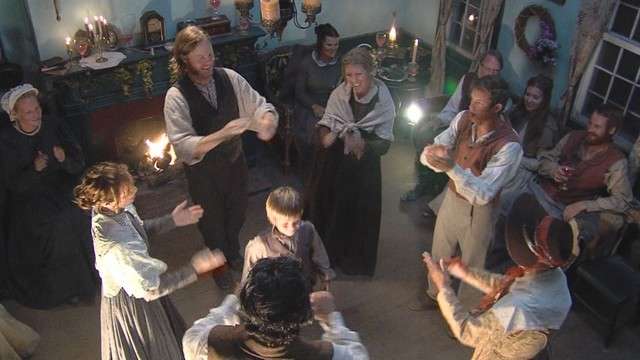 Despite the heat and repetition, it was a delightful experience. Everyone was very kind.
Now that there is snow, Christensen and company will film the winter scenes in the mountains and no, I will not be joining them. I'm just hoping not to end up on the cutting room floor.
×
Photos
Related stories
Most recent Utah stories