Estimated read time: 2-3 minutes
This archived news story is available only for your personal, non-commercial use. Information in the story may be outdated or superseded by additional information. Reading or replaying the story in its archived form does not constitute a republication of the story.
Alex Cabrero reporting The Utah Department of Transportation will have another adventure for drivers beginning this weekend. This one involves moving barriers, and it will be like this for nearly two years.
The construction zone is on I-80 between State Street and 1300 East. Basically, five lanes will always be open: three heading one direction, two heading the other depending on the time of day. Crews will move the barriers that separate west-bound and east-bound traffic to accommodate which way the commute is going. But how will they do it? Well, that's the cool part.
UDOT has had some innovative ideas in the past, like I-215 sensing when it's freezing so it sprays deicer on itself. Then there's the continuous free-flowing traffic intersection at 3500 South and Bangerter Highway. It also built a bridge first and then snapped it into place in Millcreek over I-215.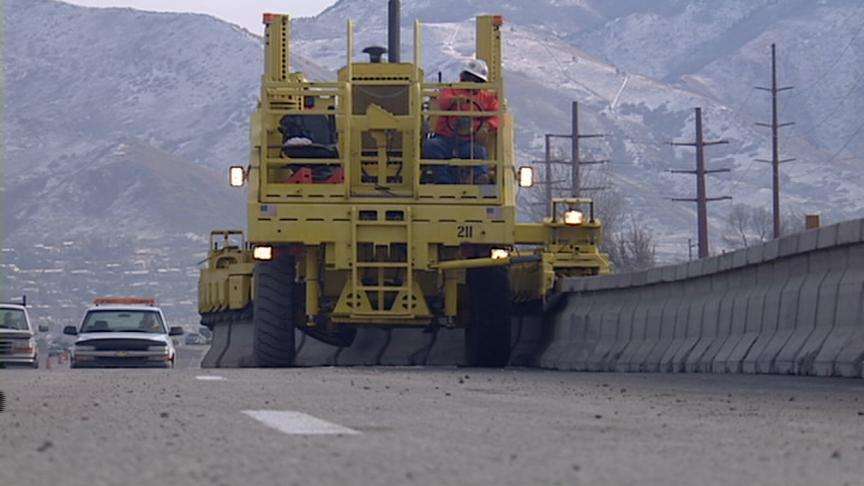 Now come the moving barriers. "This took us three weeks of training," UDOT machine operator Lonnie Depriest said.
Depriest drives a big Pac-Man-looking machine. It's the color of Pac-Man, and like the way Pac-Man eats dots, this rig eats concrete barriers. However, instead of crushing them it simply moves them over exactly one lane.
"Yeah, actually it's one of the improvements I've seen that we've come up with. It allows traffic to flow in both directions. Where the need is, we can put it," Depriest explained.
During the morning commute on this part of I-80, there will be three lanes of traffic open heading west, and two heading east. Depriest and his crew will then move the barriers at noon. So, during the afternoon commute, three lanes will be open heading east and two heading west.
With this plan in place, construction crews can do their jobs and not impact traffic. "That's just a really big deal for us to be able to do that," I-80 project manager John Montoya said.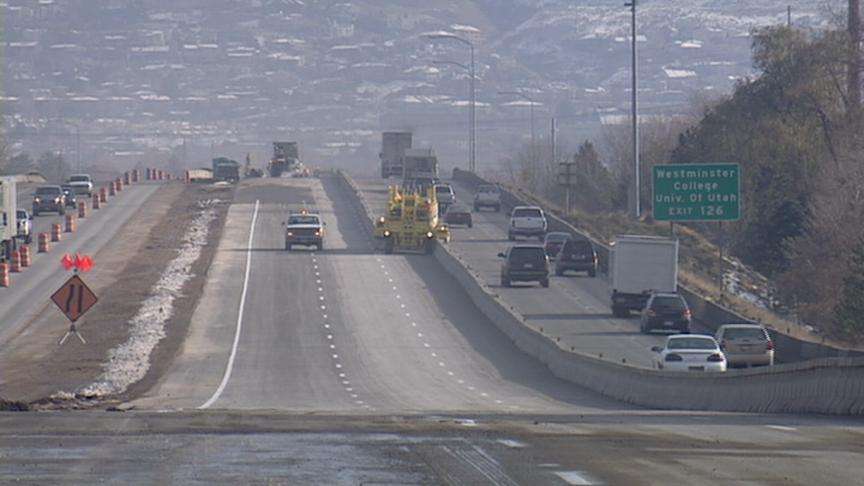 Of course, having a project like this, an actual moving barrier, means drivers on I-80 are going to have to pay extra special attention.
"There are 110,000 cars go through this corridor every day," Montoya said. Moving the barriers that will control the flow for those cars will now take just a few minutes with this machine, instead of all day with a crane.
"As long as you take it easy and make sure everything is in line, it's pretty good," Depriest said.
When all the construction is done, there will be five lanes of traffic in each direction on this section of I-80. UDOT says using that machine will help them finish a whole year earlier. They're scheduled to finish in the fall of '09 instead of in the fall of 2010.
Remember, it starts this coming weekend.
- - - - - -
×
Most recent Utah stories